Millions of tourists visit Barcelona every year. It is one of the world's most popular tourist destinations with a lot of fascinating places to visit. A buzzing nightlife, favourable weather conditions, beautiful mountains, attractive beaches and exotic local cuisine make Barcelona a favourite tourist haunt. If a travel agency is planning your tour package ask them to include these must-see places in the itinerary.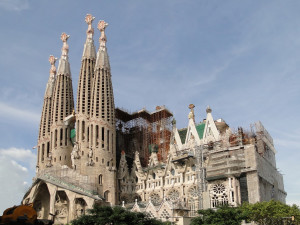 Sagrada Familia
One of the most popular attractions in Barcelona is La Sagrada Familia. Designed by Antoni Gaudi in the late 1800s it is a large and complex basilica. The religious symbolism built into all the spaces of the church and the exquisite design elements are mind-blowing. La Sagrada Familia is a study in architecture and it's worth a visit.
La Rambla
The busiest street in Barcelona is La Rambla, located just off Plaza Catalunya. It is popularly known as Las Ramblas, because it is not just one street but several different streets with a distinct feel. It is indeed a feast to the senses with the fabulous Boquería Market, restaurants serving delicious local cuisine, bars, and street performers.
Casa Mila
Designed by Catalan architect Antoni Gaudi, Casa Mila's construction started in 1906 and was completed in 1910.  The alluring architectural creation doesn't have one straight edge on the exterior The colourful building is considered Gaudi's most eccentric creation. Not only its interior and exterior but even its roof has an incredible structure.
Barceloneta
Barceloneta is probably the most popular among Barcelona's seven different beaches, and is closest to the city centre. It has a coastline stretching over 4.5 km. It has a beautiful walkway, which is quite popular with cyclists and joggers. During the summer months when the beach bars open up this beach is very crowded.
Parc Guell
Home to the famous Salamander sculpture, Parc Guëll is one of the most celebrated works of architect Antoni Gaudí and is certainly one of the most symbolic of Barcelona. Gaudi did much of the planning and landscape design in the area, which was originally meant to be a residential property. The land was later sold to the city of Barcelona and turned into a park. Gaudi has designed many buildings and structures in this park. And a walk through the park is indeed a magical experience.
Casa Batllo
Casa Batlló, a remodelled nineteenth century building, is Gaudi's yet another masterpiece. Its exterior and interior is unique and look straight out of a fairytale. Like La Pedrera, and La Casa Batllo, Casa Batllo is equally stunning with its unique architecture and infamous ornamental pillars in the entrance to the terrace.
Font Magica
Located below the Palau Nacional on the Montjuïc hill, Font Màgica is a fountain, which was constructed for the 1929 Barcelona International Exposition. Its display of water, light and music is spectacular, and attracts hundreds of visitors. The illuminated Palau National provides a beautiful backdrop for the mesmerising fountain.
Montjuic
Montjuic is a broad shallow hill with a relatively flat top and gives a commanding view over the city's harbour below.  Another interesting sight is the Palau Nacional (National Palace). The majestic building is home to the Museu Nacional d'Art. A number of sports facilities were build in Montjuïc for the 1992 Olympics.
Museu Picasso
The Museu Picasso in Barcelona's La Ribera houses over 4,000 works by Spanish artist Pablo Picasso. You get a glimpse of Picasso's relationship with the city of Barcelona if you visit this museum. The museum is housed in five adjacent medieval palaces, which itself is a sight to behold.
Camp Nou
This is one of Barcelona's most popular attractions and Europe's largest sporting arena. Home to formidable European football champions F.C. Barcelona, it can accommodate almost 100,000 people. A tour of the ground is must for all sports fans.
A trip to Barcelona can be easily arranged by a travel agency. And most of these places will be included in their tour packages. They might even help you with passport services. All you need to do is relax and enjoy the trip!