With a stunning and delightful landscape, Manali is beautifully situated at the end of the valley on the National Highway that leads to Leh. The brilliant snow capped peaks, the majestic deodar and pine trees, the charming fields, and splendid fruit orchards make it a dream holiday destination. It is an ideal holiday spot for all seasons and all travelers as there a multitude of places to see and things to do, ranging from skiing, mountaineering, trekking and rafting to visiting beautiful temples and serene rivers. Here is a bucket list of some of the must see places in Manali!
The Rohtang Pass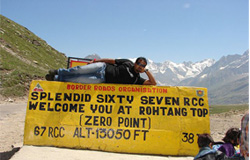 The Rohtang Pass offers spectacular panoramic views of the Himalayan mountain range. Set at 3979m above sea level and situated 51 kilometres from Manali, it is the abode of beautiful glaciers, peaks and the Chandra River. The pass is open from June to October each year for vacationers to come and view this magnificent sight. This is a great spot for trekking enthusiasts as the pass has some great trekking trails. The Rohtang pass with its breathtaking serene views is a must see place when you are in Manali!
The Hadimba Temple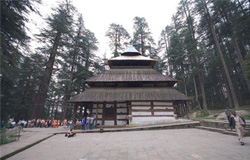 The Hadimba Devi Mandir is a charming, ancient cave temple which houses Hadimba Devi, a character in Mahabharata. It is a chief centre of interest both historically and archeologically. The temple's structure has a stunning four-tiered pagoda shaped roof and the giant doorway has carvings of legendary figures and symbols. The entire temple is surrounded by a majestic cedar and deodar forest that gives it a very serene and green atmosphere. Visiting the temple will definitely be a surreal experience for all!
The River Beas
This magnificent river originates from an igloo shaped structure near the Rohtang Pass and is abundantly fed by monsoons, making it amazingly beautiful! The river offers great water sport activities and is a huge attraction for vacationers coming to Manali. The tall, marvelous pine trees on the banks of the river add to its pristine beauty. The entire scene is mesmerizing and is truly an enchanting experience!
Rahala Waterfalls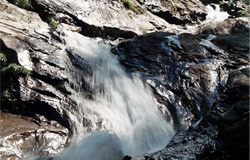 The Rahala Waterfalls fall from a jaw dropping altitude of 2,501m and are richly fed by the melting glaciers that gush down with tremendous force! It is beautiful picnic spot as it provides an exotic and exclusive view of the gushing white water flow. It is located just 16 kilometres from Manali. The lush deodar forests engulfing the falls create a mystical ambience and add more splendour to the serene atmosphere.
There are numerous travel agencies that offer attractive Manali package tour that include all the top attractions and things to do! Being a part of an organized tour will be the ideal way to visit and experience Manali in all its splendor and grandeur!