Rock Climbing, Yangshou, China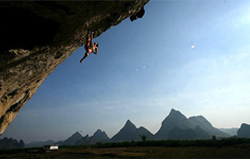 Yangshou, a picturesque fishing village is surrounded by Karst peaks and bordered on one side by the Li River and it is easily accessible making it the adventure capital of China. Rock climbing is the major tourist attraction here. Approximately 200 routes are documented and new routes are being established daily. Most of the routes are bolted, single pitch sport climbing routes, however, more multi-pitch sport routes are also being developed as climbers explore over the first anchor. It is also a great place for traditional climbing. The most famous of these crags is Moon Hill with several 5.13 graded lines. Other crags include Low Mountain, Twin Gates, Baby Frog, The Egg, Bamboo Grove and wine bottle cliff. Many routes are well bolted, though the more intrepid climber can still find fresh and in some cases near vertical routes to conquer.
Mountain Biking, Avoriaz, France
It is a French mountain resort in the heart if the Potes du Soleli. Today Avoriaz is one of the major French ski destinations catering for all standard of skiing and ranks top among the snowboarding destinations of the world. Avoriaz is also centre for trekking, golf, mountain biking and other outdoor activities. Though it offers more activities, the man made bike trails and Alpine tracks create a spectacular playground for mountain bikers. The area which includes Les Gets and Morzine, opens 25 ski lifts during the summer for riders who would rather earn their thrills the easy way. There are more often six hundred and fifty kilometers of trails in Portes du Soleli ranging from easy to pro levels. Towards the end of June month, the mountain bike festival draws in about 4000 bikers or an exciting seventy-five kilometer race that is generally downhill.
Stand-up Paddleboarding, Dominican Republic
The rugged northern coastline of the Dominican Republic offers 500kms of empty surf breaks buffeted by North Atlantic swells and stand-up paddle boarding is an easy way to catch the waves. This also gives you the option of exploring the region