You have a vacation and want to travel abroad but have a budget constraint? Not to worry because you have many options to travel to an international destination at very affordable prices.
For the beach lovers Sri Lanka is a very good option. Many of us forget about this beautiful place when we plan for a foreign trip. Sri Lanka has a rich heritage and is famous for its white beaches. Being an island, it has some of the best beaches like Tangalla, Beruwala, Mirissa, Bentota and Unawatuna. Water activities like kayaking, parasailing, skiing, surfing are present for the adventurous crowd. Sri Lanka's culture dates back to many centuries ago and has some of the most beautiful and oldest palaces, temples, monasteries. The breathtaking landscapes and aromatic tea estates are a visual treat.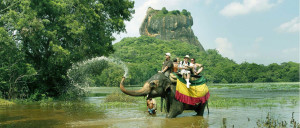 Thailand is one of the cheapest international places to visit from India with the flying tickets being very economical. Thailand is known for its prismatic beauty and its world famous cuisine. From intriguing buddhist temples to fascinating beaches and sceneries, Thailand is a must visit once in a life time. Bangkok, Phuket, Pattaya, Krabi are some of the places not to be missed in Thailand. Bangkok is embellished with Buddhist temples everywhere in the city. It also has markets where you can buy anything at a low price.
Malaysia has an eclectic mix of cultures from the Malay, Chinese and Indians making it an interesting place to visit. This gastronomical place has some of the most amazing rain forests, shopping malls, islands, beaches. Some of these spectacular islands are Sipadan Island, Langkawai, Pulau Perhentian, Tioman Island. There is also unlimited entertainment at Genting Island, Petronas Towers, Gunung Mulu National Park, Batu caves and many more. There is everything for everybody in Malaysia.
Indonesia with its vast greenery and splendid beauty is another place to visit with affordable price. Their hindu temples and monuments are truly mesmerizing. Each of these structures are a beauty to gape at. The rich flora and fauna add to the attractiveness of the place. They have some of the largest tropical forests. The beaches are clear and pure. It is the land of volcanoes. You can have a tour of these volcanoes with a beautiful mountainous background. The spas in Indonesia are world famous. Bromo Mountain, Komodo Island, South Sumatra, Bali are some places to visit in Indonesia.
Dubai is the city of sky scrappers and shopping. Nobody would really want to miss visiting Dubai. This ultra modern city has some of the world's best architecture. With its dazzling scrappers to sparkling roads and luxurious hotels and resorts, Dubai is a lovely tourist destination. This shopping capital has an abundant number of shopping malls and anything under the sun is available here. From cars, clothing, jewelry, electronics, sporting equipments are all available at any range of price. Visitors throng Souks, which are small market places. Burj Khalifa, Burj Al Arab, Dubai Creek, Wild Wadi Water Park are some places to visit in Dubai.