Wanderlust is the gravest of addictions and many people are afflicted by it. The only cure for wanderlust is apparently to travel to destinations new. If you have got tired of travelling to some of the famous tourist spots in India, it is time to visit some obscure or overlooked places in India, that have a lot to offer to visitors. We help you plan your next trip by listing some of the lesser known yet must see places in the country.
Dibru Saikhowa National Park, Assam
If you love horses this is the place to be. Not many people know that in our country there is a place where you can watch untamed horses in their natural habit. The sight of horses galloping on a grassy mound surrounded by nature's bounty is something you have seen only in picture postcards. In fact, you can see it in your own country. The history goes that the ancestors of these horses were left behind to fend for themselves by British troops after the World War II was over. These horses soon wandered into the nearby forests and became wild and untamed.
Dhankushkodi, Tamil Nadu
If you like to wander into the unknown spiritual world or have a fascination for ghosts and ghost stories, you must pay a visit to Dhankushkodi. It is known as a ghost town in Tamil Nadu. This town was not always known as a ghost city. In 1965 it was ravaged by a cyclone and the impact was such that it washed away an entire railway line dragging with it an arriving train, which had more than a hundred people on board. Everyone died in the calamity and since then the place is apparently visited by the spirits of those people who died in the accident. The ruined church and the creepy railway station only strengthen these stories.
Murud, Maharashtra
If you like to visit historical places, Murud should be included in your bucket list. You can reach the Murud-Janjira Fort, which is situated on a rock off the Arabian Sea coast, only by a sailboat. You can see the 21 bastions of the fort, and many cannons of native and European make.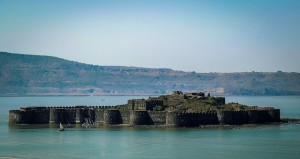 Tharangambadi, Tamil Nadu
This is again one other beautiful and tranquil place to visit, especially for history lovers. Tharangambadi would indeed surprise and baffle you. Here you will find a mix of Mediterranean and Danish influences. Just imagine such a place in India! Believe it or not, this is what you will find here. Two centuries of Danish lifestyle and culture left a lasting imprint on this panchayat town's culture and architecture.
Tuophema, Nagaland
If you want to experience true Naga hospitality, make a trip to Tuophema. This traditional village is untouched by modernisation.  You will find traditional Angami Naga-styled huts. Visit the Tuophema Tourist Village to get a peek into the Naga village lifestyle. You can go for walks and treks in the village. The best part is you can eat the Naga people's traditional food from their community kitchen. Don't miss out their rice beer!