Guatemala offers a diverse range of activities. From the must-see, world-famous archaeological wonders of the Maya, to its unspoiled jungle reserves, never-ending hiking opportunities, and a mix of colonial towns, modern cities, and tiny villages, Guatemala is a tourist's paradise. And the best part is it's satisfyingly inexpensive, too.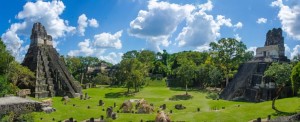 Here are few things you must certainly do if you get a chance to visit Guatemala.
Enjoy colonial Antigua
Antigua doesn't have splendid architectural wonders, but its colonial charm with cobblestoned streets provides a perfect laid-back atmosphere for its visitors. There are many busy street markets, cheap restaurants, bars, welcoming plazas, and fancy dessert places. And the views are breathtaking. For the shopaholics there are charming souvenir shops to indulge in some retail therapy.
Owing to its colonial heritage Antigua Streets in Guatemala are very pretty. That is one of the reasons why tourists visit Antigua instead of the capital. For the adventurous, there are Volcano hikes, which are arranged by most hotels.
Visit Lake Atitlan
It may look tranquil, but it's a party town. To go to any lakeside villages you can take boat trips. Each village has its own different native cultural heritage. To experience the non-colonial culture of the Maya, who still populate the region, a visit to these villages are a must. The more athletic visitors to Atitlán can explore the mountains. You can take all sorts of hikes, or lighter walks, and trekking up the mountains to catch the sunrise.
Explore the ancient Mayan ruins
A visit to the lost Mayan city is an out of the world experience. Discovering the lost civilizations of the ancient Maya is something you should not miss. Here you will find millennia-old abandoned pyramids adorned by intricate carvings. Tikal is one of the most widespread Mayan cities ever discovered in the world. You can spend all day here, discovering ancient monuments.
Admire the natural wonders of Semuc Champey
Semuc Champey set deep in the jungle in what seems to be the middle of nowhere is a huge natural limestone formation. You can go for hiking trails. You will find guided tours and easy transportation, to take you through the park. If you really want to get away from civilization you can even stay inside the park itself in one of the lodges. If you like swimming, you can take a tour to the Kan'Ba caves, a vast maze where you'll swim along an underground river.
Immerse yourself in traditional culture
This is yet another highlight of visiting Guatemala. You'll see people dressed up in traditional outfits selling souvenirs in many countries. But in the highland towns in the west of Guatemala, even teenagers are dressed in the traditional outfit known as a huipil.  It existed before the arrival of the Europeans and is common throughout parts of Mexico and Central America.
Lake Izabal
Lake Izabal is a massive lake where you can in fact swim. Here you will find a river cutting right through a perpendicular rock canyon, a Spanish castle, riverside eco-lodges, warm spring waterfalls… Isn't that enough reason to visit?
Visit the mountaineer's paradise of Xela
People can have all sorts of outdoorsy fun here. You can also visit the Municipal Theater, and even see a play. Xela, also known as Quetzaltenango, is a perfect base for mountain trips or volcano hikes. The city is the second largest in Guatemala, and is modern and lively.
Enter the jungle
Guatemala is covered by unspoiled wilderness. Massive jungle reserves remain intact although deforestation is a continual problem. For instance, Tikal is surrounded by jungle, and filled with wildlife. Many other Mayan sites are likewise concealed away, enclosed in forest.