Budapest is a favourite tourists' haunt. There is a lot to see and do in this historic city. Savour the local cuisine, take a dip in one of the city's famous baths, check out some of the cool shops featuring local designs, or just sit and people-watch at one of the great downtown cafés. Your travel agency will be able to guide you on your Budapest tour. Here are some of the things you must do while visiting Budapest.
Visit Széchenyi Baths
A visit to the thermal baths, one of the last leftovers of the Turkish control in Hungary, is an ideal Budapest experience. Don't miss the grandiose Széchenyi Baths. The best time to visit these thermal baths is early morning or just before sunset.
Take a Danube River Cruise
Budapest is simply breathtaking at night as the buildings lining the banks of the Danube sparkle and reflect on the dark waters. Take a Danube River sightseeing cruise at night. It will be a memorable experience. You also get to learn interesting facts about the history of Budapest. You can take buffet-style romantic dinner cruises or one-hour cruises.
Walk Across the Chain Bridge
The Chain Bridge completed in 1849 was considered as one of the wonders of the world at that time. It is a magnificent sight when the bridge is lit up in the evening. Take a stroll across the bridge in the evening to soak in its beauty.
Go Hungarian Wine Tasting
Wine tasting in Budapest is yet another activity you should not miss. The wine cellars here have a relaxed and romantic setting. You can learn a lot about the Hungarian wine, too.
Sneak Around the Labyrinth of Buda Castle
The Labyrinth of Buda Castle is one of the 7 wonders of the underground world and adding to its mystery and allure it was closed down in 2011 after a police raid. It has reopened, and you can visit 1 mile of the 6 mile long labyrinth.
Take a Segway Tour of Budapest
There is no need for you to have any former experience operating a segway. You can see all the major attractions and get to know the city better on a segway. There will be plenty of photo opportunities along the way, too.
Shop at the Central Market Hall
The Central Market Hall built in the 19th century is a large indoor market. You can buy all the typical Hungarian products here. The food hall is on the first floor where you get to buy anything from Hungarian sausages to vegetables and Hungarian wines. You will find vendors selling wares like traditional Hungarian embroidery and souvenirs on the second floor.
Indulge on Pastries
Budapest is full of cafes, where you get to eat truffles, fresh pastries, and coffee concoctions. With antique furniture and tools of the old confectionery trade in the glass curio cabinets the decor is charming, too.
Ask your travel agency to incorporate all these places in your travel itinerary.
When you are talking about the beaches in Menorca just about every tourist brochure line is actually true. They are idyllic and unspoilt with turquoise water and glistening sand. Truly a paradise on earth!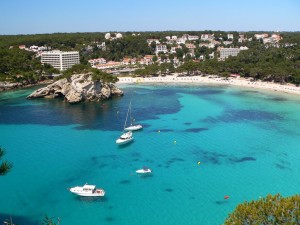 For years the island has been silently encouraging tourism. For activities such as walking, cycling or riding its gentle landscapes are ideal.
Scattered across the countryside are stone monuments dating back thousands of years. They are just perfect for a hiking holiday.
For the perfectionists a visit to the tiny Cala Binidali is a must. Its natural beauty is breathtaking. Families will enjoy Cala Binibequer in the south coast.
The best time to visit Menorca
Though the tourist season starts in May and ends in October, the islands are beautiful in early spring. You can also see the beautiful almond blossoms if you visit the place in spring. The place receives a lot of sunlight. But if you visit in late autumn be prepared for some rains.
Activities you should not miss
Menorca's beaches are famous. You can go for swimming, kayaking, diving, sailing, or paddleboarding. On the land you can go for cycling on the countryside or hiking. Also, you can just stroll around the well-designed towns of Mahón and Ciutadella at opposite ends of the island, and then relax at a harbourside table to devour a seafood platter.
Know before you go
During the winter months — from November to March — a lot of places are closed. Mid-July to mid-September is the peak season, but it will be expensive. The prices will drop either before or after these dates.
For exploring the island cycling is a good option as Menorca is largely flat.
A drink you should not miss
The Menorcan gin with lots of ice and lemonade called pomade is truly refreshing. Do try it out.
When making phone calls…
Local prefixes must be used when making phone calls throughout Spain. Wherever you are in the islands you have to dial the Balearics prefix 971.
Tourist offices
Airport: Arrivals hall; 00 34 971 157115
Ciutadella Harbour: 00 34 971 380927
Mahón: Plaça Constitució 22; 00 34 971 363790
Tourism websites: illesbalears.es; menorca.es; balearsculturaltour.es
Ciutadella: Plaça des Born (town hall); 00 34 971 484155
Currency: Euro
Emergency services: 112
Phone code: 0034
Local laws and etiquette
Carry your passport, and show your passport when paying by credit or debit card
You must have two reflective bibs, two warning triangles, spare headlamp bulbs, and a spare tyre if you are driving. Children below the age of 12 are allowed only in the front seat and must wear safety belts.
People don't share tables in eateries, including fast-food joints.
When you are introduced to someone by friends they will greet you by kissing on both cheeks.
Lunch and dinners usually start a little late. While lunch hours are from 2 pm, dinner starts from 9 pm (which is quite early). Dinner usually starts by 10 pm. However, you can eat any time in resorts.