Summer is here and most people are busy planning their vacation trips. But travelling can become a tedious task if you end up over packing. The best way to make the most out of your journey is to pack smart and travel light. Follow these tips.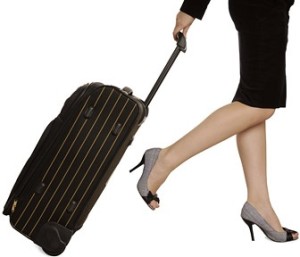 Plan ahead
Pack only those items you are 100 percent sure you will use. First, lay out the items on the bed and take a good look. For instance, you might have laid out three floral tops while you need only one. Planning ahead will help you not to over pack. Only if you see the entire outfits you will know where you are making mistakes.
Pack lightweight clothing
You should try to fit in as much as possible in one suitcase. But if you have too many bulky items this will not be possible. It is always better to choose thin clothing that won't take much space. For instance, instead of packing a heavy jeans and sweater opt for lightweight pants and pullovers. You can also pack lightweight silk scarves which double up as tops or sarongs which can be worn as skirts, and pure Pashmina shawl, which can be used as a blanket as well.
Choose fabrics carefully
It is better to choose wrinkle-resistant fabrics that are washable and dry quickly like nylon or silk. Try to avoid linen and cotton as they wrinkle easily.
Wear it on
Make sure to pack lightweight garments and wear all those heavy clothing.
Scale back on shoes
A mistake most people do is packing too many shoes and end up using only the most comfortable ones. Just pack one pair of heels and one pair of flats. Both can be used for pants or dress. Pack your shoes at the bottom of the luggage and make use of the empty spaces inside your shoes to fill small items like socks and undergarments.
Pack for compatibility
Selecting interchangeable and versatile pieces is the key to packing light. Opt for basic colours like white, black, khaki or brown, and then add tops in floral prints and asymmetrical designs. To add a chic touch to your outfit choose standout accessories. By mixing and matching you will be able to create new looks with a few items.
Do a double take
Convertible or expandable luggage is your best companion while travelling. During your return trip you will have lot more things to carry. You must have shopped souvenirs and gifts for your loved ones; you also must have shopped quite a few things for yourself. To make room for all these stuff you need expandable luggage.  Otherwise, you can pack extra bags, which you can use to carry your new items.
Make your carry-on count
Choose lightweight, sturdy luggage with collapsible shelves and built-in compartments for easy packing.
Take a vacation from your toiletries
While on the go why not try new products? You can leave behind your shampoo and conditioner or body lotion. Use the ones provided by hotels. It is always good to break the routine and try something new.  If your toiletries are indispensible you can always buy them once you arrive at your destination.
Travelling with children on holiday can be a daunting task if you do not make the right preparations.
Here are 20 tips that will make your journey a lot more enjoyable.

1. Keep aside some extra time
You need to always set aside some extra time because children love to explore. Always take into consideration factors like gawping, toilet stops, stalling, and tantrums.
2. Book ahead
Book hotels rooms ahead. In case you didn't find a room you will have to keep on travelling. And with children melting down it won't be easy.
3. Give them a camera
You can buy a child-friendly camera. This will keep them occupied and encourage them to observe their surroundings.
4. Be prepared for the climate
Children will be happier in a new environment if they are dressed comfortably for the terrain and weather.
5. For potty training pack pull-ups
During the potty training days public transport and planes can be nightmarish. You will have to carry potty on top of all your hand luggage, extra clothes and stinky, wet pants. Put them back into pull-ups on the plane.
6. Be app-y
There's no need to cram a toy box, thanks to toddler-friendly apps. You can pack a magic scribbler and book, too.
7. Use public transport
Use public transport wherever possible as most toddlers love the novelty of travelling by bus, train and boat.
8. Invest in a child locator
A child locator (which the child can wear on a shoe or belt) will help you keep tabs on children at crowded places. You can keep the transmitter. You can set off the alarm if you lose your child and follow the sound to find them.
9. Keep bugs at bay
A hand sanitizer is a handbag essential. When you're unsure of hygiene you can wipe your hands and even the cutlery in restaurants.
10. Don't forget the medicine
Kids always fall ill during holidays. So pack Calpol as well as Allegra, which is good for allergic cold and sneezing. Also, carry band-aids and a thermometer.
11. Don't let the children pack their own rucksacks
Most kids insist on packing their own rucksacks but always monitor what they are packing. Sometimes they will stuff all their unwanted books and soft toys and it might become too heavy for them.
12. Keep the activities coming
Have a collection of toys to be handed out once an hour if you're heading out on a long journey. Tiny colouring books, handheld puzzles, stickers, etc will pass the time on a car journey or long flight.
13. Have a number of family games ready
They will come in handy if there are any delays in flights
14. Avoid sweets
Instead of sweets pack savoury snacks like cheeselinks, muffins, etc to avoid a sugar rush.
15. Encourage them to keep a travel journal
Ask your kids to note down interesting things they saw or food they had. This will keep them engaged. You can also buy postcards and ask children to write messages on them. Once the journey is over it would be great to read those messages
16. Remember the medicine
A small first aid kit is essential, especially if you are travelling with kids.
17. Brand them
Write your mobile number on your child's arm while travelling through busy, crowded places, in case they get lost.
18. Check your passports
Children's passports only last five years so check your passports at least a month in advance.
19. Remember the baby wipes
Don't forget the baby wipes even if all your children are long out of nappies. They're useful not only for washing hands, but also for wiping down restaurant tables and even cleaning toilet seats.
20. Engage and involve older children
Ask your children's input while planning a holiday.
All set to holiday in an exotic beach resort? For the big trip you need to decide what to put in your bag. Some careful planning is needed while preparing for a beach vacation. The climate in your holiday destination may be entirely different from your native place, and then there are space issues to be taken into account. Here are some tips for the ultimate beach vacation, which will keep you pampered and polished.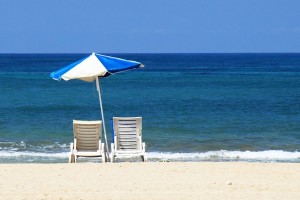 1. Summer is here after a long winter break. During winter your skin is not that much exposed to sunlight. To look at least the beach bunny part you need a natural-looking self-tanner. There are tanners available for face and body. Pack it in your beauty kit.
2. Plan your skincare before you hit the beach. Sunscreen with 50+ SPF is a must. Most sunscreens will give you greasy skin so look for formulas that are "dry touch" that won't stick to the sand.
3. You should not just carry a sunscreen but should also know where to apply it. Apply it on the lips and under the eyes.
4. When dealing with sun, seawater and sand the less makeup the better. Select a couple of lasting waterproof items if you're hesitant to go barefaced. Waterproof mascara is easily available. They will give your lashes a boost without looking too made-up.
5. Drink plenty of water. Staying hydrated is the key while on a beach vacation. Look for multitasking products for hair and skin to save packing space.
6. When on the go always carry portable wipes. For night-time facial cleansing they'll pull dual job. They also come in handy for quick cleanups on buses, planes and automobiles.
7. Carry some face masks in your handbag. Just because you are hitting the beach doesn't mean you must ignore your beauty regime. They will give you an instant glow before a night out. There are de-puffing masks, eye-specific masks, and even those with oxygen-boosters and radiance-enhancing vitamin C. So make your pick.
8. To accentuate your tan, bring along makeup. Carry bronzers and highlighters for a beach goddess's look.
9. With the basics you can never go wrong. Always carry warm shades, especially for your lips.
10. Normally, beach destinations will be humid, so steer clear of foundation meltdown.  For a mattifying effect apply an anti-shine serum. Smooth over areas that are oil-prone and the T-zone. Then apply a concealer.