Tropical climate with sunny days and cool evenings with a constant flow of sea breeze, Philippines is a beautiful destination to live in Asia. Although ever inch of Philippines is full of culture and beauty, here are the top 5 cities we think are the coolest towns in this island country.
1.    Tagaytay: Just over an hour away from Manila, Tagaytay is one of the best places to live in Philippines. Tagaytay hosts everything that the metro city of Manila has to offer, such as good transport system, shopping places and grocery stores and good restaurants without same level of traffic and congestion. Since it at a slightly higher elevation, Tagaytay has cooler and a more pleasant climate with cool flowing breeze along with its close proximity to beautiful beaches. The town also hosts an excellent view of the world's smallest active volcano, the Taal volcano.
2.    Baguio: Baguio is located at an elevation which keeps this town at comparatively lower temperatures than rest of the Philippines all year round. Located at the base of the Cordillera Mountains the town enjoys a very pleasant climate. This town is one of the fastest growing educational and economical hubs in Philippines and boasts several resorts, shopping malls, cinema houses, theatres, restaurants and picnic spots along with miniature golf courses, clubs, holiday cabins and nature trails making Baguio one of the coolest towns in Philippines.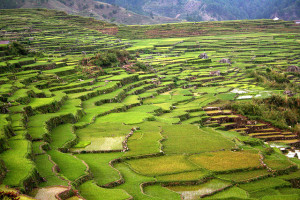 3.    Sagada: One of the most beautiful towns to live in Philippines is Sagada. Being at an altitude of approximately 5000 ft above sea level, Sagada boasts cool temperatures to an extent that the waters are teeth shattering cold and the weather become winter like after sun down. The town is famous for the variety of fruits that is grown there including lemons, good transport systems,delicious local cuisine and shopping centres.
4.    Canlaon City: This beautiful place in the Philippines hosts numerous waterfalls, hot springs and lush green landscapes which makes Canlaon city one of the coolest places in Philippines. It is also fondly called as the summer capital and has beautiful agricultural estates, old trees, vintage houses and exotic wildlife which make it all the more beautiful.
5.    Subic Bay: This place in the Philippines can be described as a quiet, calm and an extremely safe town. It has an excellent transport system and has a lower cost of living than other larger towns. Beautiful houses, excellent medical and transport facilities, grocery stores and shopping centres make Subic Bay a cool place to live.