Shirdi is one of Maharashtra's key pilgrimage towns. Sai Baba, a 19th century Sufi mystic and saint, who arrived at Shirdi, united people of all faiths and religions with his powerful spiritual teachings and acts. Sai Baba is the presiding deity of the shrine around which the entire town's economy thrives. Today, the small town of Shirdi, with an official population of about 36,000 people, employs thousands of migrant labourers from all across the state of Maharashtra, and acts as a solace to millions of devotees who stand in long queues for endless hours just to seek the divine blessings of one of India's greatest spiritual masters.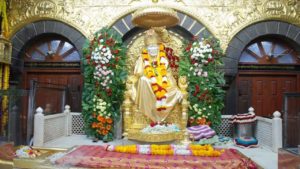 You needn't be a Saibaba bhakt or even a believer of sort, but you cannot brush aside the contribution of the mystic saint toward the livelihood and economy of Shirdi as a town.  Here are eight mindboggling facts about Shirdi you never know:
A whopping 60,000 visitors every day!
As many as 1,00,000 people visit Shirdi over the weekend, with a reported attendance figure of 60,000 visitors every day. The numbers are expected to go as high as 5,00,000 during auspicious days like Ramnavami, Dussehra and Gurupoornima.
The temple was once privately owned!
The magnificent temple that forms the basis of Shirdi's economy was raised in 1922, some four years after the demise of Sai Baba. Shrimant Gopalroa, a Nagpur-based millionaire, commissioned the temple; it enjoyed private status until a certain point of time. Today the temple is owned and managed by the Shri Saibaba Sansthan Trust.
A stunning donation of 110 crore astounds everybody!
The temple is never short of rich devotees. One KV Ramani, the co-founder of NASSCOM and a well-known philanthropist, has been donating 80 percent of his earnings to the Trust. He donated 110 crores to the trust for constructing an ashram that can easily put up 14,000 devotees! Well, the numbers just keep growing!
We will follow this post up with some more astonishing facts on Shridhi — facts that are stranger than fiction— in the concluding part of the blog.