The city of Kanchi, more popularly Kanchipuram (or Kancheepuram) is the 'cradle of Tamil Dravidian tradition and culture'. Known in the world over for its delicate and intricate weaving style, the Conjeevaram or Kanjeevarum Sarees are woven from the purest mulberry silk. Several dynasties that ruled the region such as the Pallavas left an indelible mark in the construction of 'world-famous' temples of sound structure and rich architecture. Let us take a quick stroll along the city of temples which will transport you back to the era of the Tamil Kingdoms lost in the maze of time and history.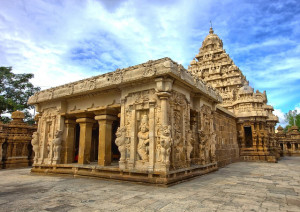 Kailasanathar Temple
This is a must-see temple, in that it is the oldest structure in Kanchipuram. Neither did the Cholas nor the Vijayanagar rulers improvise or build on its original architectural style. Known for its historical significance, the temple is dedicated to Lord Shiva, one of the main Hindu Gods.
Ekambareswarar Temple
Ekambareswarar Temple forms one of the five important Shiva temples in the region, more popularly called Pancha Bootha Kshetrams (or five elements temples). Each temple signifies a natural element, with 'Earth' represented in this temple. Believed to be built around 600 AD, the Tamil poetry of the second century AD speaks volume of Kama kottam, and the Kumara kottam (presently the Subramanya temple and the Kamakashi Amman temple).
The Pallava rulers pulled down the existing temple structure then, and reconstructed the temple. The later Chola kings also made significant contributions to the construction of the temple. You can't find any separate shine for Goddess Parvati here, unlike other temples dedicated to Lord Shiva in Kanchipuram. A small shrine, 'Thiru Nilaaththingal Thundathan' is dedicated to Lord Vishnu , who is worshipped as 'Vamana Murthy'.
Varadaraja Perumal Temple
The Varadharaja Perumal Temple or Attiyuran or Hastagiri is dedicated to another important Hindu God, Lord Vishnu. Carved out of a single rock, the 100-pillared mandapam, or hall, that you can find in this temple, also known as the "Perumal Koil" is an architectural marvel. These pillars are delicately ornate with detailed carvings.
Vaikuntha Perumal Temple
The Vaikunta Perumal Temple is a temple dedicated to the Hindu god Vishnu. Designing a flight of stairs leading from the ground floor that will take one all the way to the first floor for climbing up and down in this temple must be something unimaginable by any standards. Another interesting feature is that you can't view it from the outside.
Explore the city of temples; get mesmerized by its sacred legends and remarkable beauty by reaching us out at Emperor Traveline for an unforgettable tour experience.