The Dubai Shopping Festival is a paradise on earth for all shopaholics! It is not only an attraction for shopping enthusiasts, but a dream come true for the entire family as it has a mammoth array of entertainment and evening shows as well. The Dubai Shopping Festival kicked of in February 1996 and it has since then become an annual event which has been attracting hundreds of holiday makers from around the globe! It initially started off as a promotion event by the government to encourage trade and has grown bigger and better with each passing year!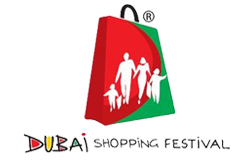 It is called as "Layali Dubai" in Arabic and the festival runs for one month carrying the slogan "One Family, One World, One Festival". The festival offers huge discounts, great deals and bargains on the most popular and best brands in the world. Since Dubai has low import duties and literally no taxation, the festival features the lowest prices ever! This is what makes Dubai the most enthralling shopping destination in the world during the Shopping Festival. In the year 2012, the festival attracted over two million visitors who indulged themselves in the shopping and cultural extravaganza.
The Dubai Shopping Festival 2012 was a melting pot of various types of entertainment that kept the entire family happy and satisfied! This year the festival kicked off with a scintillating opening night fireworks and lights show across the Dubai Creek. The festival featured international fashion shows, nightly fireworks, musical shows by leading international musicians, and cultural performances by world famous artists. It also had the Cartoon event which was a dream come true for children of all ages! The children enjoyed with their own Pokemon, Casper and Tarzan! The festival also had numerous daily cash prizes and daily car draws that had the entire crowd excited and thrilled! The festival also featured a mammoth array of gourmet and local food stalls that made a gourmand's paradise!
The 2012 Dubai Shopping Festival carried the marketing slogan, "Dubai at it's best" and the festival truly delivered on those terms! The massive success of the festival has been the encouraging factor to make the next edition even brighter and bigger. The festival dates of 2013 have been decided keeping in mind the dates of spring break in neighboring countries, so as to attract more and more people to the event! The major attractions to look out for in the coming year are tax-free shopping, attractive daily and weekly prizes such as the Lexus LX750 and 21 kilos of gold! Moreover, the committee has also a pipeline of cultural and entertainment shows planned throughout the event! The Dubai Shopping Festival is a once in a lifetime carnival experience that has added more glamour and allure to the city of Dubai!
Book your tickets now for Dubai Shopping Festival at best prices and have a great shopping experience. Visit Dubai Shopping Festival Itinerary from Chennai and Coimbatore.