People who have travelled to Kodaikanal, one of the most popular hill stations of South India, next only to Ooty (Nilgiris) in terms of natural charm and beauty, would have probably visited the famous Kodaikanal Lake, located in the heart of the Kodaikanal city. The lake is spread over a total area of 60 acres; Kodaikanal comes from two Tamil words 'Kodai' meaning forest and 'Kanal' meaning gift. Kodaikanal, as its name tells us, is a gift of the forest.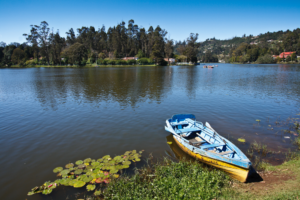 Enveloped by the north-western Palani Hills, the Kodaikanal Lake plays host to a number of adventure sports like cycling, horse riding and boating. In case you plan to hit this place, there are quite a number of resorts around the lake for you to stay if you stop by. Here are some of the must-know facts about Kodaikanal Lake if you think it's the best hill station for your next holiday:
The Kodaikanal is a not a natural lake, it is a manmade water body first excavated by Sir Vere Henry Levinge, the collector of Madurai, in 1863, and this means the lake is a century and a half old! He translated his vision of turning this place into a popular tourist spot at his own expense!
The lake, originally, was three streams of water, and it was Sir Vere Henry Levinge again who transformed the marshy land by building bunds across the three water streams. A reservoir, shaped in the form of a four-point star, was constructed adding to the beauty of the lake. The lake was filled with aquatic life.
The first boat that floated on the lake was bought by Sir Vere Henry Levinge from Thoothukudi (Tuticorin), a port city in the state of TamilNadu, which was famous for boat building including mechanised fishing boats.
The lake, today, is a point of recreational use. However, there was a time when people used to swim for pleasure in the see-through waters of the lake. Later, punts, or flat-bottom boats, were used for recreational boating. Later, a boathouse and boat club was set up near the lake to give a fillip to tourism. Several hill station resorts mushroomed as tourism started to boom.
The recommended time to visit the hill station is between October and December, as the hills receive monsoon during the end of the year. Lose yourself at the sight of the lush green slopes, gushing waterfalls, picturesque estates, murmuring streams and exotic flora with the calm Kodaikanal Lake shining as a backdrop.