The San Agustin Church, located on General Luna Drive at Intramuros in the capital city of Philippines, Manila, is one of the most beautiful places to ring your wedding bell. It is the country's last surviving church, and UNESCO, rightly so, formally announced it as a World Heritage site in the year 1994. The design of the church is based on Spanish architecture and Baroque style of art. The San Agustin Church is usually open between 8:00am–12:00 and 1:00pm–6:00 pm daily for a congregation and public view. Next to the church is the San Agustin Museum. Though the entry to both the church as well as the museum is free, you are required to donate once you're at the museum.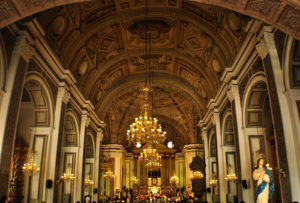 The oldest surviving church:
Originally called the Church of St Paul, the San Agustin was constructed in 1571 and is the oldest surviving church of the Augustinian Order. A series of disasters struck the church first, an invasion by Chinese pirates in 1574 and then when fire, unfortunately, broke out in 1583 and 1586. The safest bet back then was to reconstruct the church in stone, which happened between 1587 and 1604. Disasters followed one after another, this time in the form of earthquakes that rocked the church in 1645, 1754, 1863 and 1880, and a brutal ransacking of it in 1762 by the British. In 1945, the church was again battered in the battle of Manila following World War II. However, it stood the test of times in Intramuros, even when natural calamities brought about the destruction of the Manila Cathedral, another admired church in the Philippines.
You will be awed by the interior of the church with its ceiling and walls covered by splendid trompe l'oeil murals. If you climb upstairs through the museum, you can have a 360–degree view of the interiors from the choir loft. Chandeliers dating to the early 14th century adorn the interiors of the church. The architectural style gives you the best of both worlds medieval charm and European modernity.
The 60–odd benches or seats in the choir loft will remind you of the 17th-century furniture style, the hand carvings, in particular, crafted out of Molave, a tropical hardwood, which was in vogue. It is refreshing to see ethnic style from the bygone era managing to survive and pull through. The San Agustin Church also houses the remains of Spanish Conquistadors including Lavezares, Juan de Salcedo, Goiti and Miguel Lopez de Legazpi. The San Agustin Church and Museum, should, undoubtedly, be on your bucket list when you fly to Manila. You will be glad you did!