Whenever it comes to a holiday trip, the most striking continent that comes to our mind in Europe. Among the innumerable places in Europe Athens, Berlin, Paris, London, Zurich, etc the pick of the lot in Switzerland, also the land of skiing and trailing. Though it is known for its incredible watch manufacturing capabilities, its ice-capped landscape makes us dive deep into it and experience real bliss.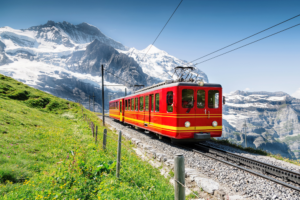 While touring Switzerland, you cannot afford to miss Jungfraujoch, one of the top touring destinations of Switzerland, if not Europe, also a popular UNESCO World Heritage Site. Factual data indicates that two million people a year make a lifetime trip to Jungfraujoch. The Jungfraujoch offers tourists an excellent panoramic view of the country.
The Jungfraujoch is a 3454m high alpine located between the popular mountains -Jungfrau and Monch. Cogwheel train from Interlaken is the only mode of transportation, and it is the highest train station in Europe. Once you reach Jungfraujoch, you can find a plethora of activities to explore and experience.
Hiking and snowboarding across the glacier Mönchsjoch hut and adjacent mountains (suitable during summer) account for an unforgettable experience. The Sphinx Observatory is a viewpoint that gives a 360-degree view of the Aletsch glacier and snow-capped mountains. Ice Palace takes one to the enchanting world of ice with ice sculptures. The Snow Fun Park is recommended for those wanting to try out skiing, whether at the beginner or an advanced level. In addition, there are several immersive multimedia shows and glittering exhibitions.
For kids visiting Jungfraujoch, there lies the exciting Chocolate heaven called Lindt Swiss Chocolate Heaven where they can easily learn the process of chocolate-making (buying of chocolates is permitted too).
Essential preparations:
1. To match the frequent changes in the temperature, wear dresses in multiple layers that might help you to remove or add layers as and when needed.
2. Precaution and medical advisory are needed for children less than 2 years, pregnant women and the aged, as it is situated on the highest attitude.
3. If you are suffering from Altitude sickness, please think twice before making the trip, and do carry or exercise necessary safeguard measures.
4. Do carry warm clothing, solid shoes, sunglasses, hand gloves, sports hat, wool socks and the required winter wearable.