Situated on the banks of the great Brahmaputra River in Assam, the far North Eastern part of India, the Kaziranga National Park that covers a total area of about 430-sq-km with its vast swamps and tall undergrowths of elephant grass makes it a perfect habitat for the Indian One-Horned Rhino, an endangered species. Once a place known for free poaching, the Kaziranga National Park was made a wildlife sanctuary in 1940.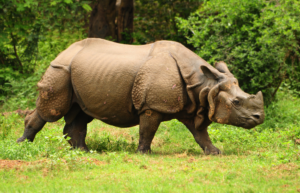 If you want to catch a glimpse of the Indian one-horned rhinoceros, then Kaziranga is the place to be. The Kaziranga National park's 430 square kilometer area abounds with swampy lagoons, elephant-grass meadows, thickly populated forests and is abode to over 2200 Indian one-horned rhinoceros, roughly 2/3rd of their total world population.
Fauna:
Besides the symbolic greater one-horned rhinoceros, this park is a natural habit for elephants, Hoolock Gibbon, Tiger, Leopard, Sloth Bear, swamp deer, wild water buffalo, Hog Badgers, Capped Langurs, Monitor Lizards, Leopard Cats, Jungle Cats, Otters, Jackal, Wild Boar, Capped Langurs, Hog Deer, Indian Bison, etc. Over the time, the popularity of tiger has also increased manifold in Kaziranga, and therefore Kaziranga, in 2006, was declared as Tiger Reserve. Furthermore, the park is given the status of 'Important Bird Area' by BirdLife International for the preservation of avifaunal species. Birds such as ferruginous duck, lesser white-fronted goose, greater adjutant, lesser adjutant, Baer's Pochard duck, Asian Openbill stork and black-necked stork particularly migrate from Central Asia during the winter period.
Flora:
Because of the differences in altitude between the western and eastern areas of the park, you can get to see four vegetation types: alluvial savanna woodlands, alluvial inundated grasslands, tropical semi-evergreen trees, and tropical moist mixed deciduous woods. Some of the popular trees that can be found in the park include Indian gooseberry, Kumbhi, elephant Apple and the cotton tree. There is also an excellent range of aquatic flora seen in ponds, lakes and along the river beds.
Some of the major tourist attractions in and around the park include Hoollongapar Gibbon Sanctuary, Orang National Park, Kakochang fall, Addabarie Tea Estate, and Deopahar. An extended tour schedule must be useful to visit Dibru-Saikhowa National Park, Manas National Park, Guwahati, Nameri National Park, and Shillong.
The park, undoubtedly, is renowned for its excellent wildlife conservations efforts and its vast expanse of marshlands, forests and elephant grass makes it all the more beautiful when the River Brahmaputra is in full flow. The month November to April is the recommended time to visit the Kaziranga National Park.