The Nelliampathi hills, located in God's own country, Kerala is a feast to the eyes of the onlooker. Caressing the clouds, the Nelliampathi hills is marked by grandeur and splendour and lend one an awe-inspiring sight, to say the least. Located in Nenmara in Palakkad district, it is separated by 102 km from the Coimbatore Airport and 150 km from Cochin International Airport. The hill ranges stand tall at a height of 465m to 1570m and ensure you will definitely come again to explore more.
To reach Nelliampathi, the road from Nenmara takes you all the way to the Pothundy Dam. You need to drive through 10 sharp hairpin bends en route to Nelliampathi.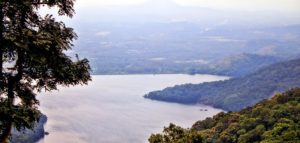 The Pothundy Dam has some excellent recreational facilities in boating and makes a nice outing area. As you drive your way through the dense forests and up the testing hairpin bends to Nelliampathi, there are a few viewpoints where you can stop by and witness the vast expanse of Pallakad district unfolding with its green bounty of paddy fields adding to the sylvan charm.
You can take also take a look at the Ginger farm from Nelliampathi, which lends a panoramic view of the splendid Western Ghats formation in this expanse, bringing into view, enjoining parts of the neighbouring state of Tamilnadu. If you are planning for a day out or a weekend getaway, from the big city, you don't need to go far than travel to Nelliampathi.
There are quite a few privately owned resorts and hotels in the region, especially as you move atop the hills of Nelliampathi. You can spot bio-farms as you travel further uphill towards the Palagapandy Estate, housing a colonial bungalow, constructed during the British Raj in India, and now which has been made into a privately-owned resort. Nelliampathi, assuming that the weather is fine, is great for trekking. Travel a little further to Seetharkundu for a mesmerizing view of the valley and a stunning waterfall dropping about 110m. If you have some more time left to explore Palagapandy, then either take a car or stretch yourself a bit to trek to reach Mampara, another quiet hill station in the region.
The area enclosing the Palagapandy Estate is lush and flush with cardamom, tea and coffee plantations with the adjoining hills home to rich wildlife including elephants, leopards, Giant Squirrel, Indian Gaur, etc and a delightful haven for birdwatchers.