Sri Padmanabha Swamy Temple, another famous temple, at Thiruvananthapuram in the God's own country, is one among the few richest temples in the country. Another popular wealthy Hindu temple is the Tirumala Temple at Tirupati in the state of Andhra Pradesh. The Padmanabha Swamy Temple draws millions of Hindu devotees, travellers and tourists from all across the country and abroad.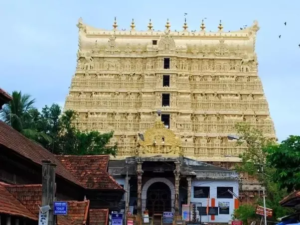 The temple has been in news recently for the wrong reasons, largely due to the riches and wealth preserved within the temple chambers, and the mystery lurking behind the hidden treasures. Let's take a quick look at some of the facts that make this temple an intriguing eerie one.
The temple architecture is a classic blend of typical Kerala architecture and Dravidian style particular to TamilNadu. Sri Padmanabha Swami Temple is often referred to as the world's richest temple with huge reserves of assets and wealth well preserved inside the different chambers of the temple. It's for this reason that the temple is dubbed as the 'Golden Temple'.
The main presiding deity of the temple is Lord Vishnu in his characteristic reclining pose on serpent Adisheshan. This posture of the Lord is called by the Hindus as 'Anantha Shayanam.'  There have been mentions of the shrine in several places in popular Hindu sculptures such as Varaha Purana, Skanda Purana, Brahman Purana and Mahabharata.
Once you're inside the temple, you can find six chambers in the temple. This is the point beyond where things tend to get murky. The Chamber B, as it is known here, has never been opened hitherto by anyone, inspite of the growing voices within to open the same and make matters open to public view. It is widely believed that this chamber is the home to the idol of Sri Padmanabha Swamy, Srichakram (a.k.a mother of all yantras), and that it is laden with incalculable quantities of wealth and other valuables. People dread the idea of opening the chamber as they believe it can put them to gravest dangers.
Though the temple holds several festivals, the Laksha Deepam festival, is the most followed one, where the temple premises and structure dazzle brightly with one lakh lamps lit to grace the festival that is celebrated once in 6 years. If you are in Thiruvananthapuram next time, make sure you visit the temple just to explore its profound mysteries, if anything.