Riding in the Nilgiri Mountain Railway is a bandwagon activity for those visiting Ooty (Ootacamund) in the Nilgiris hills. The reason for Nilgiri Mountain Railway to draw attention amongst other activities is that it gives the riders the pleasure to sight steep mountains, in-depth valleys, rocky terrains, dense forests, darken tunnels and tea plantations along the rail track.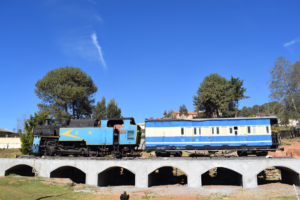 Though the construction began in the late 18th century, the railway was open to the public in the early 19th century. There are several toy trains that run between Mettupalayam and Ooty (Udagamandalam) via Coonoor. The trains are referred to as Toy trains because it works on a narrow gauge system to commute past the steep Nilgiris hills. In addition, the small tracks make the carriages smaller and resemble a toy. The track is 46 kms long and it takes approx. 250 minutes for the uphill and 210 minutes for the downhill journey. Hence, the time and money are worth spending the journey making the trip etched in memory.
In those days, these vintage trains worked on coal. Owing to recurring technical issues, sourcing quality coal, and forest fires, these engines have been replaced by oil-fueled steam engines. However, the retired engines are exhibited at the Nilgiri Mountain Railway museum in Mettupalayam for observation.
The highlights of this spectacular stretch and toy train include:
1. Recognized as Asia's steepest track going from 1069 to 7228 feet
2. The only meter gauge and rack railway in India that uses pinion system to climb the clinches
3. The carriages have remained in same Blue and cream colour since its making
4. In 2005, this was awarded the UNESCO's world heritage site
5. Featured in many documentary and other movies to highlight the strengths of Indian Railways
This cog train accommodates first class, middle class, and unreserved class. It costs Rs.205 per person in First Class, Rs.30 per person in Second (middle) Class and Rs.15 for Unreserved. For the ones, who wish to avoid the crowd and wanted the luxury of a cushioned seat, it is recommended to take first class. The schedule of each toy train is available online to look into and make reservations.
You can reach Mettupalayam railway station via Coimbatore, the nearest city that has a well inter-connected means of transportation.