The Stone House, fondly called "Kal Bangala" by the indigenous tribals of Ooty, Thodas, is the first bungalow constructed using Kal (Tamil for 'stone') to come up in this ravishing hill station of South India. It was built in 1822 by John Sullivan, one of the most revered personalities in Ooty, best known for establishing British settlement in this region. The British acquired the land from the local Thoda tribals at a measly price of one rupee per acre for the construction of the bungalow. Today, it stands majestically as the official residence of the Principal of Government Arts College, one of the finest buildings in South India, and a remarkable exhibition of progressive architecture and colonial relics.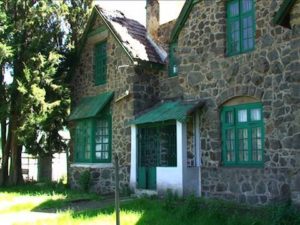 The history of 'modern' Ooty also begins here when John Sullivan, then the Collector of Coimbatore, commissioned Mc Mahon and Keys to explore and survey the place. The duo just went through the motions until Sullivan himself decided to unravel the true beauty that lies hidden deep in its heart. He took personal interest in the construction of the building, and chose a lush green area abound with orchids, lichens, ferns and pine trees for the same. The building features a sloping roof in green. With a simple architecture, the Stone House is more like a British Cottage. It is supposed the living room of the building has a cosy fireplace. The building today can be witnessed only from the outside.
Though not quite doted as the other tourist destinations in Ooty, the building is a brilliant example of British architecture and exquisite 'Raj' culture that characterizes a significant period of the region's history.
Ooty that remained cut off from the rest of the country gained increased accessibility to the outside world owing to the numerous developmental activities undertaken by the British officials such as laying of roads and highways and systematic clearing of forests. But it was the Stone house, the citadel of British power in this region, from where it all started. You can also find a tree in front of the Stone House known as the 'Sullivan's Oak' and a man-made, L-shaped lake also excavated by Sullivan. Definitely worth a visit.
To Visit Stone House Contact Emperor Traveline for Package Details.