The Salar Jung Museum in the historic South Indian city of Hyderabad, Andhra Pradesh, India, houses the largest single-man collection of unique and exquisite antiques in the world, making it a must visit place when you are in the city. This splendid display of artefacts belonging to different civilizations, which goes back as far as the first century, is a museum person's delight.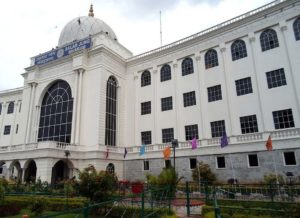 The Salar Jung Museum, established in 1951, is located on the southern bank of River Musi in Hyderabad. Comparing the Salar Jung to London's Victoria & Albert Museum is like comparing apples and oranges, as it is quite vast and really unique in all respects. From paintings to sculptures, manuscripts, carvings, carpets, textiles, ceramics, clocks, metal work, and furniture from all parts of the world, the Salar Jung houses several other important treasures of the country.
The Salar Jung, the third biggest of India's museums, was founded by Mir Yousuf Ali Khan or Salar Jung III, who comes from the elite Salar Jung family that had given five prime ministers to the erstwhile state of Hyderabad from 1720 to 1948, ruled by the famous Nizams.
Mir Turab Ali Khan, grandfather of Salar Jung III, was given title of Salar Jung I at the age of 13 and later went on to become the Prime Minister of Hyderabad state at the age of 24. Salar Jung I, while known for his astute reforms and administration acumen, was a great aesthete. Salar Jung III, whom his grandfather never met, influenced him to become one of India's greatest art collectors. It was when he had decided to dedicate his entire life towards art collection that Salar Jung III relinquished the title and post of the Prime Minister in 1914.
After the death of Salar Jung III in 1949, a committee was set up by the Government of India to oversee the Salar Jung Estate, as he had no heir to pass it onto. The museum was officially opened to the general public in1951 in Diwan Devdi; the Salar Jung family's residential palace comprises 78 rooms and lot many different buildings on the grounds.  The Salar Jung, which was initially a private museum, lost half of its prized artefacts all owned by Salar Jung III, the whereabouts of which remains a mystery to this day. Right, what does the Salar Jung Museum has in store for you? The collections would just wow you and transport you to another plane of thought. We will follow this up in the concluding part of this blog.