The Salar Jung Museum is the pride of Hyderabad city. While we got to learn the history of the globally acclaimed museum in the first part of the blog, let us explore further the exciting experience the museum would offer one. In 1958, the State Government decided it would manage the museum, which hitherto was maintained by the Salar Jung Estate Committee.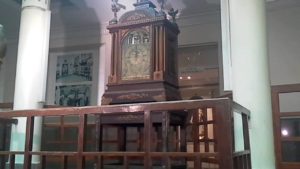 In 1961, it was settled that Salar Jung Museum and its library be made as an Institution of National Importance by an Act of Parliament. The administration then was handed over to an Autonomous Board with the Governor of Andhra Pradesh as its Chairman. In 1968, the museum was shifted to its present site of Afzalgunj from Dewan Devdi, Andhra Pradesh. This, however, resulted in a lot of valuable collections and artefacts – either stolen or lost.
The Salar Jung Museum, notwithstanding the loss, was able to preserve a huge and impressive collection of the founder. Salar Jung III is believed to have collected some 50,000 books and manuscripts and 43,000 artefacts during his entire lifetime. Not many of the collections, unfortunately, stand today at the museum. However, important works by Raja Ravi Varma, famed Indian artist from Kerala, are, no doubt, cynosures of attraction. Several of his art works depict scenes from the great epics of the Mahabharata and the Ramayana (often compared to the Quran, Bible, and works of Shakespeare and Greek poet Homer in terms of cultural significance) by integrating Indian artistic styles with European and Western academic art.
While the Salar Jung has exclusive paintings collections, the artefacts that you get to see in the museum represents the rich craftsmanship and traditions from all across the world for centuries. Be it the finely woven textiles from the Middle East, the brightly carved jade carvings from Indian rulers, furniture and glass from Europe and ceramics from Sino-Japan, the Salar Jung Museum is a masterly effort from one of the country's greatest art lovers ever. A visit to the museum is worth every cent for a penetrating insight into art and history.