If you are done sight-seeing the Vellore Fort, the Golden Temple and the Jalakandeswarar Temple in Vellore, take a bus or cab through the beautiful winding hill roads of Yelagiri, and head straight to the scenic Nilavoor Lake without blinking an eye. Yelagiri, often dubbed 'Poor man's Ooty' is a popular hill station next to the likes of Ooty, Kodaikanal and Yercaud in the South. Visit to the picturesque Nilavoor Lake will not cost you a dime. However, enjoying amusement rides and recreational activities here will incur additional charges. You can take a quiet and lazy walk around the lake and partake in what the nature has to offer.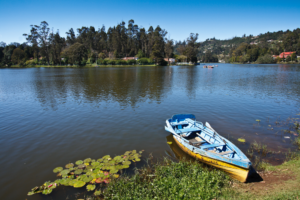 The Devi Temple, whose main deities are Kaduvu-Nachiyar, is a stone's throw from the lake. Explore the splendid pink beauty of the Thambiran Lotus pond, an ongoing project, in the nearby village of Nilavoor. The Yellagiri Summer Festival is thronged by thousands of locals and tourists from all over during the summer month of May every year. Though Nilavoor Lake is not a huge water body, it still forms an excellent boating site and popular getaway destination in this part of the world. The lake, which would take no less than two hours to explore fully, forms an exhilarating sight when the sun is in all its glory and as dusk quietly unfolds. The climate is clement and salubrious all throughout the year.
Major attractions in and around the Nilavoor Lake include Velavan Temple, Punganur Lake, Murugan Temple, Jalagamparai Falls, Telescope Observatory, Swamimalai Hills and Nature Park.
The recommended time to visit this quant and charming station is between the month of April and December. Yelagiri is a municipality town well inter-connected by rail and road to major cities like Salem, Chennai and Bengaluru. Public transport here is efficient too. There are also a lot of busses plying from nearby towns like Ambur, Tirupattur, Vaniyambadi, Harur, Uthangarai, Natrampalli, etc to Yelagiri. Do check out the bus timings and routes though before making the trip.