The Sri Ranganatha Swamy temple located at Srirangam in Trichy (or Tiruchirapali) in Tamilnadu is one of the most famous temples in South India. Built in the Dravidian architectural style, the temple is spread across a total area of 156 acres, and is dedicated to the Hindu deity, Lord Vishnu or Ranganatha. There are many other Sannnathis and 53 upa-sannathis alongside the main diety or Moolavar. This temple is one among the 108 Vishnu temples in the country, out of which 105 temples are found in India, one in the neighbouring country of Nepal and two are believed to exist outside the Earthly walls. The River Kaveri (also spelled Cauvery) flows on one side of the temple; there is a distributary of the river running on the other side called the Kollidam. Here are some intriguing facts on the temple: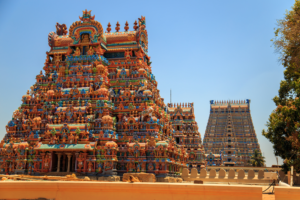 1. Sri Ranganathaswamy temple is also called by other names like Periyakoil, Thiruvaranga Tirupati, Bhoologa Vaikundam and Bhogamandabam.
2. This temple is the largest Hindu temple and the largest working temple in India.
3. The temple's Gopuram is made of gold that is well protected by an electric fence.
4. There are totally seven concentric prakaras or enclosures or walls. These walls, which measure 32,592 feet in length, enclose the entire sanctum's sanctorum. It is the only temple in this part of the world to have seven enclosures. Seven is believed to be an auspicious number by most Vaishnava believers. According to the Vaishnava traditions, seven signifies the seven Yogic centres of consciousness (chakras) of the body located at the base of the spin.
5. There are 21 towers (gopurams) in the temple. In addition, it also houses 50 shrines and 39 pavilions.
6. The entry of non-hindus is restricted at the gold-topped sanctum sanctorum and second prakaram.
7. There is a shrine located above the sanctum sanctorum designed in the shape of the Hindu symbol 'Om' which is fully gold plated.
8. The second enclosure has the Ranganayaki shrine, actually the Goddess of Lakshmi. Therefore, during festival times the deity remains inside the shrine, but is called on by Ranganthar.
9. Inside the temple there is a hall having 953 pillars made of granite. The most intriguing, yet fascinating feature of the hall is the intricate sculptures. This hall was constructed by the Vijanagara rulers who ruled between 1336 and 1565.
10. The Sri Ranganathaswamy Temple contains 21 tower gateways. The shrine has a main gateway which measures 236 feet in height. Not surprisingly, it is Asia's second tallest temple tower.