You will be taken aback to find that only 7 per cent of Dubai's fortune comes from oil resources.  Dubai, as shoppers would tell you, is a true paradise for those who love to fill their shopping bag to the brim. However, the best time for shopping is when the Dubai Shopping Festival (DSF), put up for a month from mid of January to mid of February, is in full swing.  One of the world's most popular shopping destinations, the annual DSF ropes in 3 million visitors and offers non–stop store giveaways and exciting shopping bargains. It is also the time that the hotel rack rates fall by nearly 40 per cent to encourage visitor influx and spends.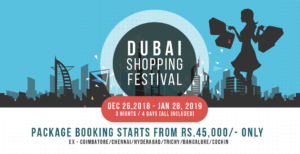 What are the things to see and do?
Dubai's desert roots make a great spectacle at the Heritage Village, a major shopping festival attraction that helps you explore and purchases the traditional arts and crafts of Dubai. If shopping is in your blood, then don't miss out on the fantastic deals on consumer goods ranging from jewellery to rails of haute couture to carpets and home electronics.
Some of the globally acclaimed entertainers and artists come here to display their talents throughout the festival. The Dubai Shopping Festival, with over 30 countries as participants, is nothing short of excitement and galore with stunning light and laser shows, spectacular firework displays, grand exhibitions, gala concerts, non–stop street entertainment and plenty of sporting action. You can purchase any merchandise from A to Z from around the world.  Dare for more at the Global Village by entering the mega raffle to win unbelievable prizes and money over the month, which is broadcasted live on TV watched by millions.
The plethora of deals out there:
The various sponsor companies of the Festival have incentivised getting to the 'City of Gold' during the Dubai Shopping Festival, for the most part; sponsoring airlines to provide exclusive deals and discounts including meals, stay, sightseeing and all transfers at cut rates.  Emirates Airline gives you the bigger bang for your buck with travel fare deals and an additional baggage allowance; therefore, you will not be taxed in case you carry a hefty booty, but all probable that your credit card may take a beating after the trip to the shopping festival. We are offering an exciting package tour to the Dubai Shopping Festival this year at the best prices. Ensure you make the most of it and don't miss out on the Middle East's most happening shopping festival.