1) Baia Do Soncho , Brazil :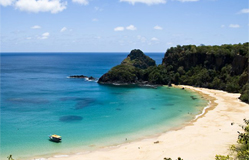 located on a volcanic archipelago, The Baia do Soncho is  named the most beautiful beach in the world due to its scenic surroundings , emerald water and white sand. It is a very secluded and pristine owing to it hard to reach location. It is surrounded by native vegetation and high rising cliffs which are perfect to watch the dolphins swim and dive.
Things to do: going for a boat ride, snorkeling and trekking.
Resorts and hotels: there are 3-5 resorts within a 3 mile radius. Spectacular view, good    service and other amenities are also available.
2) Grace Bay, Turks and Caicos:  This beach has been given the title of the best beach in the Caribbean. The beach is located towards the southwestern outskirts of grace bay. A quite and secluded 12 mile stretch is the perfect place to relax and have fun too. It is a good Idea to plan your visit from the morning so that you can enjoy all the amenities that grace bay has to offer.
Things to do: water sports such as wind surfing and parasailing. The water is very clear for snorkeling, so bring your gear along!
Resorts and Hotels: there are 10 hotels and twelve restaurants within in a 1 mile radius. The beach attracts a large number of tourists due to its popularity. But it is possible to find a private spot away from the crowd owing to its large area.
3) Flamenco, Culebra, Puerto Rico: A trip to Puerto Rico can never be complete without a visit to the picturesque Flamenco beach. It is a one and a half mile crescent on the north of Culebra with a minimal crowd, no traffic or crimes.
Things to do: Kayaking and snorkeling. This beach also allows camping. You would have to bring your own equipment though.
Resorts and Hotels: There are 11 hotels and 5 apartments/villas withina 1.4-1.8 mile radius. Facilities such as bathrooms, changing rooms, showers and clean drinking water are also available on the beach.
4) Rabbit beach, Lampedusa: Located on the south coast of Italy, this beach is one of the most captivating works of nature. It is among the rare zones where the loggerhead sea turtles lay their eggs. The beach which can be only reached by a boast is just a 328 feet stretch, with water only 3m deep. A delight even for non swimmers.
Things to do: A trip to the beach can be taken any time of the year. But try to attend the various festivals like cookouts, barbeques and musical performances that happen on the island only during the summer nights. A must is to taste the island's version of the fish cous cous.
Resorts and hotels: There are 5 hotels within a 2.5 mile radius of the beach.
5) Whitehaven beach, Australia: Named the Queensland's most photographed beach, it is a must-see in the Whitsundays. And true to its name, it is a White Haven. The sparking white fine silica sand and the turquoise shades of the inlet blend into one another to create an incredible view. The experience of exploring this beach is the one you will remember for a lifetime.
Things to do: The sand here does not retain heat. So, you can enjoy long walks along the scenic coast. Ferry, overnight sailing trips and luxury yachts are available. You can also go for a boat rid e and camp on the beach.
Resorts and hotels: there are 9 hotels and resorts near the beach. Dogs are not allowed and cigarette smoking is strictly prohibited.
6) Playa de ses Illetes, Formentera: Undoubtedly, this beach is the one among the most lovely beaches in the Mediterranean. Hence, there is quite a traffic there too. You can expect the beach to cater to international needs as people from all over the world flock here.
Things to do: Swimming, deep sea expeditions, scuba diving excursions, whale and dolphin watching cruises are among the few things that can arouse the adventurer inside you. You can never find yourself getting bored here
Resorts and Hotels: there are 27 hotels and resorts near the beach. One can get concessions, lifeguards; gear equipment for rental from snorkeling to surfing. It is an ideal place for a family vacation as well, as all the basic facilities and services are catered for.
7) Anse Lazio, Praslin Island, Seychelles: Anse Lazio beach located on the North West corner of Praslin Island is one of the most popular beaches in the Seychelles Island. The water here is shallow warm and safe.
Things to do:  the perfect place to relax and lay back. You could go for a swim or probably snorkeling.
Resorts and hotels: There are no resorts or hotels close by. So don't forget to bring lots of water and other necessities.
8) Lanikai Beach, Kailua, Oahu:  in Hawaiian language, 'Lanikai' means 'heavenly sea' and the beach stays true to its name. Turquoise green water and fine sand greet you, with cool wind, a relaxation from the intense Hawaiian heat. The beach gets heavily crowded during the weekends and the tourist seasons.
Things to Do: Swimming, snorkeling.
Resorts and Hotels: There are no public amenities, washrooms, restaurants or showers nearby. So please bring your necessities along.
9) Rhossili Bay, Swansea, Wales: Aptly called "the supermodel of British beaches", Rhossili beach is the top ranked beach in UK. You would have to walk your way there through steps from the small Rhossili village and the breathtaking view that accompanies is definitely worth the labor.
Things to do: Also titled "U.K's no.1 dog friendly beach", don't forget to brig your dog along. Swimming, surfing and water sports can be enjoyed there or you can just lay back and relax.
Resorts and Hotels: A number of hotels are located within a 1.5 mile radius. All services including public transport, refreshments and other amenities are also available within a range of 400m.
10) Playa Norte, Isla Mujeres, Mexico: Playa Norte has a tinge of adventure and antiqueness to it. Located on the eastern coast of Yucatan peninsula, this beach is best visited during the winters, when the temperature is lower. The summer here has an itchy feeling and is highly humid.
Things to do:  fishing, snorkeling, scuba diving and water shark tours and many more exciting things to do on the beach. You just have to go ahead and explore
Resorts and Hotels: There are 9 hotels and 5 luxury villas located near the beach, all amenities included.