Asia is not only a continent with some of the most beautiful places in the world, but also very pocket friendly. If you and your significant other are looking for a honeymoon holiday to relax and spend time within a budget without compromising on the quality then Asia is your best option. Here are some of the locations in Asia that we recommend.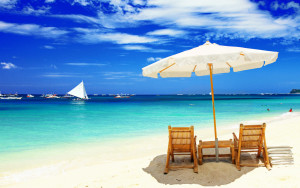 Indonesia-Bali: If you are looking for an exotic getaway with beautiful beaches, ancient temples and lush green forests then Bali is your place. Bali offers you beaches to relax in, clear blue waters to scuba dive or swim in, wonderful forests and volcanic mountains to trek in, ancient temples to explore in and serene locations to kick back and relax with your spouse.
Thailand: if you want to enjoy blue waters, white sand during the day and enjoy partying in nightclubs at night then Thailand is where you must head with your newly-wed. While you can enjoy the warm beautiful beaches, relaxing spa treatments, or exciting adventure sports during the day, you can kick back with tasty locally brewed beer in bars and night clubs by night. And if you want a mix of relaxation and partying, then Thailand will not disappoint you.
Srilanka: Srilanka is a beautiful honeymoon destination which offers you beaches, dense forests, safaris in national parks and exotic food. It is one of those beautiful places in the world where you and your spouse can take long lazy walks on the beaches during sunset, go to elephant orphanages and beautiful national parks to make your honeymoon memorable.
Malaysia: Beautiful beaches, exotic spas, beautiful mangrove forests, treks into rainforests, adventure sports, night markets for endless shopping and exotic food is what Malaysia has to offer honeymooning couples to make their honeymoon an experience of a lifetime.
Japan: Regal palaces, beautiful landscapes, high rise cities, scenic mountains, serene parks, monasteries and holy places with shrines, delicious food and shopping centres constitute Japan. If you and your significant other want to spend a memorable honeymoon on an elegant island then Japan is where you should head to.
Maldives: Crystal blue waters and endless beaches are what Maldives offers to newly-weds. If you are looking forward to lazing on a hammock, swimming on private beaches, deep dive and explore the oceans then head to Maldives for your honeymoon with your newly-wed.
Turkey: This nation is a beautiful blend of culture and an ideal place to explore with your spouse. Long relaxing spas, steam baths, hot air balloon rides, amazing cuisine and beautiful landscapes of caves and hills makes turkey a good retreat for you and your partner.
Hong Kong: This beautiful place is a made up of a couple of islands with only a few miles of ocean between them. If you are looking for a place with a vibrant lifestyle, delicious street food, massive shopping centres, huge aquariums full of exotic marine life, serene park and adventures sports then Hong Kong is your honeymoon destination.
Before deciding on a honeymoon destination, research well on the prices and the best months to visit to make the most out of your honeymoon trip.