Udagamandalam which is popularly referred to as "Ooty" is considered to be the "Queen Of Hill Stations" in Southern India. Nestled in the Nilgiri Hills of the majestic Western Ghats, Ooty is beautifully landscaped with lush greenery and carpeted with tea plantations. The entire hill station is spotted with picturesque picnic spots and has been considered a perfect serene weekend getaway right from the British Colonial days. The enchanting blue hills, lush green forests, endless miles of tea gardens and the mesmerizing grasslands welcome the vacationers to a mystical paradise on Earth! Here are the must visit tourist attractions in Ooty that should be on everyone's bucket list!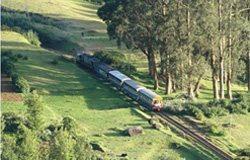 The Sprawling Rose Garden: This Government established and maintained rose garden is even today the largest in India. The garden boasts of housing over 20,000 varieties of roses and their exotic collection includes some unique breeds such as Miniature Roses, Floribunda, Ramblers, Hybrid Tea Roses as well as roses of unusual shades such as green and black. The garden also features great view points, terraces with pergolas, rose tunnels and creepers, all of which make a visit to this beautiful place worthwhile! It is indeed a wonderful place to enjoy a small picnic with friends and family, while enjoying the breathtaking view of the calm and serene scenery.
The Famous Botanical Gardens: This indeed is a must see attraction for anyone who visits Ooty. The garden houses over a thousand species of plants, trees, shrubs, bonsai plants, ferns and herbal plants. The "Summer Festival" held in May is the most eagerly awaited annual event which features the world famous Flower show and other cultural events. Thousands of tourists visit Ooty during this festival which is held in May. The garden is also the home to a 20 million year old fossilized tree which many of us would have seen in various famous movie songs! The colorful flowers, ferns and roses are a visual treat for the onlooker. The Botanical Garden is in fact the first place to see when you visit Ooty!
The Delightful Pykara Lake: The Ooty lake most of the time tends to be over crowded and you might have to wait in long queues for your boat ride. Just drive 21 kilometers and you will reach the gorgeous Pykara lake with its shimmering blue water and a calm and serene atmosphere. It is much less commercialized than the Ooty lake and therefore is not too noisy or overcrowded. It is a placid lake nestled between dense forests and also features a lovely boat house which has a restaurant and rest house. You can enjoy a beautiful boat ride while soaking in the serenity of the peaceful atmosphere away from all the noise and pollution. If you are going on your honeymoon, then this is the place to spend quality time with your loved ones!
The Historical Nilgiri Mountain Railway: Though Ooty can be easily accessed by road, taking the Nilgiris Toy Train from Mettupalayam which is situated in the foothills, is probably one of the most delightful experiences for people of all ages! The railway is painted blue and cream and the exotic wooden coaches and large windows add more charm to the experience. The train travels at about 10.5 kilometers per hour, making it probably the slowest train in India. However, this makes it possible to click some amazing photographs of the breathtaking beauty of the valley, plains and landscapes. Keep your camera ready as you get into the train and be prepared to enjoy an experience of a lifetime!
There are hoards of other things to do and places to see in this mystical paradise such as the Government Museum, Upper Bhavani Lake, Dodabetta Peak, Lamb's Rock, St.Stephen's Church, Wax World etc.. Ooty definitely is the perfect destination for a family getaway as it offers a myriad of activities and attractions for people of all ages!