September is the best part of summer that holds magical powers to transport you from the warm summer breeze through the cool autumn weather accessorized with colorful leaves everywhere. It is a great idea to take a European summer holiday in September. Calm cascading blue sea, warm waters so very inviting and the matching blue skies, all sound like wonderland. We have enlisted a few fantabulous places where you can go this September.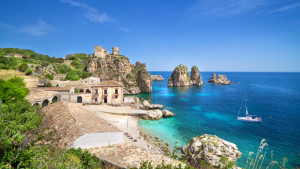 Sicily
Sicily is pleasant year round. The warm Mediterranean wind keeps it sunny and rich. Though you can feel the heat wave, its wild and beautiful beaches offer a great way to enjoy the breeze. September is also the best month to explore the labyrinthine streets of its enchanting towns. It is also time to relish the fine fruits and produce from Etna's rich national park. There are innumerable local delicacies to be enjoyed around every corner of the streets. Go for the travel agency holiday packages that offer great discounts during off-season.
California
California wine tours can be the best way to enjoy late summer and autumn. Amateurs can get the most out of it by touring the centuries old wineries. Visiting a maximum of 3 to 4 wineries per day would be fine. The Napa Valley and Sonoma Valley are two very popular destinations and they would be great for a first time visit. There are a lot of wineries and other hot spots that offer great tours for beginners that make them come again. The best time to visit California would be mid-September to late October. This is also the busiest month for wineries in Napa and Sonoma. California wine tours are available with travel agency tour packages that are also all-inclusive.
Morocco
September in Morocco marks the time of the famous Tangier's TanJazz festival. Enjoy the concerts and explore the workshops, souks, cafes and historic cultural celebrations that are held in cool venues by night. Tangier is a glamorous hub that was loved by celebrities, artists and musicians. Today it is also loved and visited by tourists from around the world. Moroccan tour packages come at great rates at this time of the year.
Canada
September is a season of celebrations in Canada. The city comes alive with music concerts and street shops that offer exotic gourmet food. There is a lot of music, dance, art, sports and competitions that are conducted to entertain every traveller. Colorful fireworks and hot air balloon rides are also held to perk up your mood even more. It would be a great idea to head to Canada's jewel-toned lakes for hikes and horse rides if you prefer to get close to nature instead of all the hustle and bustle of the city.