Tuscany is Italy's most favourite tourist destination. Its breathtaking scenery, artistic heritage and amazing hill towns make it a perfect holiday spot. There are lot of must-see places in Tuscany. It is a mix of historic cities and art, great wine and food, sandy beaches, and beautiful countryside. Here is a list of places that you should be visiting in Tuscany.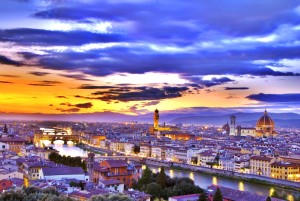 Florence: Florence, in the heart of Tuscany, is the birthplace of Renaissance. Tourists flock here to feast on Renaissance art and architecture. There are many world-class museums and cathedrals in Tuscany that are awe-inspiring. Florence's Cathedral with its famous dome and Baptistery are splendid. You can also visit several vineyards from Florence. Take guided trips or day trips from here to other Tuscan towns.
Siena: Siena is a classic medieval hill town in Tuscany, which is famous for its architecture. Piazza del Campo, Torre del Mangia, Palazzo Pubblico, and Palio di Siena (summer horse-race) will lift your souls. There are many other attractions in Siena like grand cathedrals and museums.
Pisa: Leaning tower is just one of Pisa's many attractions. There are many other places to visit in Pisa like the Knights' Square, Piazza Dei Miracoli, parks, statues, etc. Don't miss the Clock Palace and the Piazza dei Cavalieri.
Lucca: If you are looking for an authentic Italian experience then visit Lucca – the walled city with one of the best-preserved Renaissance walls. Atop the walls there are walking and cycling paths and gardens. Just walk around to see Lucca's historic centre. Lucca has quite a few towers from where you can get wonderful views of the city by climbing to the top. There are also several shopping and eating out destinations.
Cortona: Cortona is bordered by Etruscan walls, which is around 3000 years old. Here you will find majestic buildings, attractive medieval architecture, gorgeous views, and a large ex-pat community, with a lot of English-speaking crowd.
San Gimignano: San Gimignano, known as the City of Beautiful Towers, is a hill town famed for more than a dozen medieval towers. There are many fountains as well. From San Gimignano you can also visit Volterra, a quaint and quiet hill town.
Chianti Classico Wine Region: The Chianti region is the wine-making powerhouse of Italy, and is a very interesting region to visit. Other than wineries, the Chianti region has charming villages, and beautiful countryside.
Montepulciano: Montepulciano is a walled city in Tuscany, and it makes a great base for exploring Tuscan hill towns. The medieval and Renaissance hill town is the producer of the famous Vino Nobile wine. Apart from the wineries (there is a castle that is open for wine tasting), it has striking main squares and has many beautiful Renaissance buildings.
Pienza and Val D'Orcia: Pienza, the pretty Renaissance town in the Val D'Orcia of Tuscany, was designed to be the perfect city. It is well-known for its pecorino cheese, and Piccolomini Palace.
Montecatini Terme: Montecatini Terme is known as a spa town. It has several spas and centres for wellness treatments. You can take a tour to Montecatini Alto in the historic railway.