If you love heights and speeds and the breezy romance of winter, snowshoeing is for you. Think of winter sports and it is skiing and snowboarding that come to our mind first. However, along with these tried and tested sports, snowshoeing is also slowly gaining popularity. It gives us an opportunity to appreciate the magnificence of winter in a peaceful and relaxed way. That's not all. It is affordable too, as it doesn't need too many paraphernalia. Here are some of the top snowshoeing destinations you can enjoy with your better half. So sit back, relax and read on…
Sandia Crest, New Mexico
For hikers and backpackers, New Mexico is not the first place that comes to their mind when they are planning a snowshoeing adventure. However, it snows quite a lot in the northern part of the state, and it is the ideal location for couples. You can take the air tram to Sandia Crest and snowshoe down to the mountain base.
Black Hills, South Dakota
The Black Hills of South Dakota is mostly visited by travellers in the summer to see Mount Rushmore. There are also other famous landmarks in the American West enroute. What not many people know is that, this is also a great place to snowshoe during the winter. You can even spot rare wildlife species in the Custer State Park, which spans thousands of acres. You can start snowshoeing from Centennial Trail beginning at Bear Butte Lake and then head towards Wind Cave National Park.
McCoy Park – Beaver Creek, Colorado
The Beaver Creek area of Colorado, about 100 miles from Denver, tops a snowshoer's itinerary. McCoy Park has 32 kilometers of trails and offers stunning views of the area's mountain ranges. It is quite sunny here, and that gives you the much needed warmth in the cold winter. If you love luxury, there are resorts, which let you access the trails by lift. If you want a little more fun in the snow, head to Colorado's Rocky Mountain Park.
Mt. Seymour – British Columbia, Canada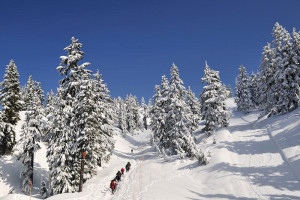 It is a couple-friendly snowshoe destination that offers many other sightseeing and recreational activities. Mt. Seymour is suited in British Columbia's North Shore. Here, snowshoers can indulge in pretty much all winter sports.
Queenstown, New Zealand
It is well-know that New Zealand has a lot to offer when it comes to warm-weather adventure sports. However, not many know that it is an ideal place for snowshoeing during the winter too. Apart from its great possibilities for snowshoeing, what makes it a great destination for couples is it fine-dining restaurants, bars and shops.
Lapland, Finland
Apart from snowshoeing, you can take a walk into the wilderness in the Lapland area. There are also quaint little villages in the area. You can have a stopover in these villages and enjoy some hot snacks and drinks.