Las Vegas – a city of dreams, the entertainment and adventure galore, pickup your bikes and rucksack or just your wallet to get lucky at what you have long wanted to do.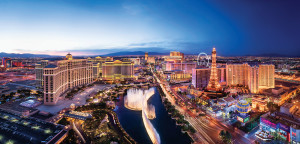 Mountain Biking: Enjoy your ride to the Vegas Valley- an outdoor playground, with heart pounding zest and technical routes. Take your mountain bike, wonder at gnarly mountain, ride to the apex and catapult downhill on a single track just at noon.
Casino:Las Vegas has the best casino in the world, get ready for the heart pounding experience, clutching the dice at the casino table or shuffling chips in the poker room,it's one awesome experience well spent.
Gold strike Canyon:A famous hike to Colorado River to check your fear of heights, scrambling down and climbing back in the Canyon with fixed ropes anchored to massive boulders. The reward lies in the series of natural hot springs on the way to a stimulating river dip.
Lee's Canyon: This Canyon is 445 acres of shreddable terrain get more than 200 inch of powder snow that keep skiers happy, also with 300 days of sunshine. With Bellagio Conservatory on one side, Las Vegas is also a place for winter sports, a paradise for skiers. For the people who like to groom their run – 30 trails and a terrain park with additional backcountry is available for advanced sports. Carry your mittens without fail.
Cliff Climbing: TheRock National Conservation Area, a scenic belt of desert, where you find fit people holding their bodyweight on their fingertips, clinging to terracotta cliffs. The famous Red Rock has more than 2000 climbing and bouldering routes to test your mettle at routes like Physical Graffiti and Big Bad Wolf.
Paddle at Colorado: Grab your paddles and go kayaking at the base of Hoover Dam through Black Canyon on the Colorado River. A 12 mile stretch that explores slot canyons, soak in hot springs and paddle through the exquisite Emerald Cave, back at your hotel to grab a drink.
Bootleg Canyon Mountain Bike Park: Grab your helmet and knee pad and get ready for the epic ride for 35 miles trails include low-key-cross-country and white-knuckle downhill that plummet 1000 feet from the top. Catch a cycle shuttle to the top and get ready for the heart pounding drop along the technical routes. Get to Champagne's for vintage Vegas feel with a drink
Las Vegas Motor Speedway: Just get into the world's sick race cars ranging from 700 horsepower LambhorginiAventador to Ferraris, Porsches and more for a nine turn track, 1.2 mile Motorway. Let the pro-driver terrorize you with drifting – a 295 foot pounds of torque whipping you and your driver through two laps of adrenalin gush.
Dig This: Where you can drive Caterpillar bulldozers and hydraulic excavators and get down real dirty digging the earth.
Vegas Pub Crawler: Just drink and cycle having a party on wheels with 15 seater steel conveyance travelling at 7 miles per hour from one waterhole to another at Las Vegas. The pub table and bicycle is an excitement on the move.
Las Vegas Segway: Keep moving like a professional on wheels experience.
Double Decker Bus of Las Vegas: Get into this double decker bus where impersonator like Elvis , Marlin and Sammy Davis Jr. are waiting for you.
We have aligned the best things to do at Las Vegas that frequent traveller to this place will venture. Get ready for the adrenalin hike and start Las Vegas Tour.