Hawaii – The big island:
There are many honeymoon spots in Hawaii. The beaches, the water, the Aloha Spirit… it's hard to go wrong with a honeymoon in Hawaii. Romance is everywhere you turn. Maui, Oahu, Kauai… these beaches are some of the best honeymoon spots in the whole world. What makes Hawaii unique is not just its pristine beaches, but geographic diversity. In addition to romantic beaches, there are verdant jungles, molten rock deserts and even snow-capped mountains.
Kauai:
Kauai is beautiful with lush greenery and mountain tops covered in clouds, the perfect spot for couples who love to be outdoors. The scenery is stunning. Beach-lovers can have a ball enjoying the sunsets, sands and waves. Kauai is also a hiker's paradise. Waimea Canyon and Kalalau Trail are a must-see for hikers.
Maui:
Like Kauai, Maui is also part of the Hawaiian island chain and is the second largest island in Hawaii. It is famous for its scenic beauty with tall cliffs, beaches with powdery sands and is the best place for windsurfing and snorkelling. Couples who love outdoors and adventure, think no further than Maui.
Charleston:
This South Carolina city is surrounded by barrier islands. The beaches are wide and perfect for solid surfing. To top it all is the five star resorts. It exudes the southern charm and is perfect for a romantic honeymoon.
Lake Tahoe: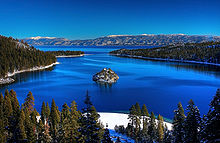 Lake Tahoe is peppered with diverse beaches. Some are secluded spots while others are best for scuba diving. The water is crystal-clear and most beaches have shades and parking spaces, which make them just perfect for a honeymoon. Couples can spend the day on the lake and catch the sunset at Emerald Bay.
Lanai:
Lanai is a romantic destination of untouched tranquillity. It features world-class resorts and markedly unique attractions. It is the most exclusive of the Hawaiian Islands, and is not at all crowded. Honeymooners will find solace is the serenity offered by Lanai.
Honolulu – Oahu:
Oahu is known for its diversity. It is one of the best places to snorkel. Honeymooners can get pampered at luxury resorts, as well as indulge in retail therapy, and dine at some of the finest restaurants in Oahu. For art lover couples, there are avant-garde art museums in Honolulu. And if you are lucky you might even get to see honu, the Hawaiian green turtle.
Savannah
Just 20 minutes away from the historic downtown Savannah is the Tybee Island, which is famous for its blue waters, soft rolling waves, and a relaxed atmosphere. After a stroll through Forsyth Park, feast on some classic Southern comfort foods.
Key West
Literary and history buffs can enjoy spending their honeymoon exploring the historic places here. Key West's relaxed vibe and sunny beaches attract the non-literati. All the beaches in Key West are ideal for swimming, sunbathing, and snorkelling.
Cape Cod
Cape Cod beaches are the finest in the world. The scenic beauty is breathtaking and it is the best place to have a quite holiday. You can spend your days relaxing on honey-coloured sands and enjoying the tasty seafood.