Botanic Gardens
The gardens are open from 5 '0' clock in the morning till night. Downtown Singapore at this time is pleasant, with dogs, tai-chi practitioners and joggers. Wandering through the virgin rain-forest and then taking in National Orchid Garden's, muti-colored collections of about a thousand species of orchids and about two thousand species of hybrids refreshes, both the body and soul. After the exhausting walk getting a traditional breakfast of coffee, soft-boiled eggs and a toast generally slathered with the famous coconut jam feels like heaven.
China Town
'Shop houses' that are traditional nestle below the skyscrapers at either sides of Singapore affectionately known as ' little red dot' is a must be place. Watching the locals playing Chinese chess and trying some delicious local food is a very good pastime.
Soaking Up in Little India
Streets of Little India are totally filled with flowers, smell of the spices and food that is across from India. Paired with multicolored buildings and loud music, giving an intoxicating feeling. Exploring the many shrines and temples before visiting twenty four hour shopping mecca, called Mustafa, a department store of a gigantic size where everything can be bought under one roof  is a great experience.
Night Safari and Singapore Zoo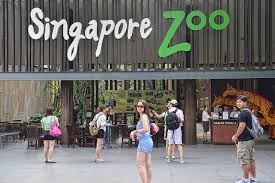 Night Safari and Singapore zoo are the two most renowned, Worlds zoological attraction's. The zoo's specialty is its frame which has been cleverly designed with open enclosures, meaning that animals appear within a touching distance. Giant pandas Jia jia and Kai Kai are its popular residents who can be visited only on a long queue on weekends and holidays.
Marina Bay Sands
Singapore's Las Vegas is the very gigantic integrated resort in Marina Bay Sand, featuring one of city's biggest casino and a big shopping mall, with its own canals offering the gondola rides. The boat-like structure that is perched on top of the 3 enormous and big skyscrapers, housing a pool at a rooftop.
Gardens By Bay
Gardens by the Singapore's Bay is 101 hectares and is home to exotic arrays of fauna and flora from all around the globe which are housed in bio-domes of cloud forest and flower domes. However the main 'must see' is those stunning super-trees which are shimmering fifty meter structures that dazzle to music and light every evening.
Nature Reserve
The high-rise homes and skyscrapers make one forget that the Singapore city was once a home to tropical rain-forest's. The ones that are still left are Bukit Timah Nature Reserve- Singapore's highest point and the Macritchie Reservoir Park, which is no longer home to the tigers but definitely offers an escape from city where one can work-up a sweat and get soaked in local wildlife with monkeys and birds.
Arab Quarter
If the Singapore's shopping malls does not float the boat it is good to try those hip boutiques on the Haji Lane located at Arab Quarters center. From designer dresses to city bikes, the lane offers endless delights.