Tangkuban Perahu is situated 30 kilometer from the city Bandung, the provincial capital to West Java in Indonesia. Being a dormant volcano it is very popular among tourists as they can hike and ride to the craters edge to get a good view of boiling mud and hot-water springs and even buy eggs cooked from the hot surfaces. This strato-volcano situated in Java, erupted last in 1983. Together with Bukit Tunggul and Mount Burangrang, one can see the remnants of Mount Sunda after a plinian eruption which caused the collapse of caldera.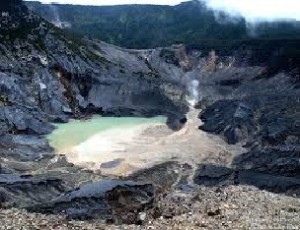 In 2005 April, Directorate of Volcanology and Geological Hazard Mitigation raised alerts forbidding visitors to go up the volcano. Sensors fixed on the mountains slopes- Anak krakatoa and Tangkuban Perahu showed an increase of volcanic activity and gas build-up. The meaning or the translation of the name in Sundanese is" upturning of boat" or "upturned boat". The story behind the volcano is that there lived a beauty "Dayang Sumbi" who cast-away her only son "Sangkuriang" due to his disobedience. She was granted " power of the eternal youth" by gods for her sadness. Sangkuriang returned after years of his exile, long after, when both had failed and forgotten in recognizing each other.
Sangkuriang loved Dayang Sumbi and wanted to marry her. But Dayang sumbi recognised his birthmark just when he was going for hunting. To evade the marriage from happening, Dayang Sumbi asked her son to build dam on Citarum river and also a very large boat for crossing the river. She told him to build both of these before sunrise. Sangkuriang meditated and got mythical ogres called the green giants or buta heige to complete the work. Dayang Sumbi was surprised to see that the works were completed almost, so she called her workers and ordered them to spread the red silk cloths on the eastern side just to give an impression of sunrise. Sangkurai believed that he failed to complete his task and kicked the built dam and unfinished boat which resulted in enormous flooding and from the boats hull, Tangkuban Perahu was created.
In 2001, a study was conducted and it was shown in that study that the volcano has erupted at least thirty times in about 40,750 years. Studies of tephra layers, that is within three kilometers of the crater suggested that 21 eruptions of minor intensity and nine eruptions of major intensity had occurred. The eruption which occurred before 10,000yeras were phreatomagmatic/magmatic. The eruptions which occurred after 10,000 years were phreatic. The recent eruption of the volcano was on October fifth, in the year 2013.
Circling the Kawah Rutu is a less dangerous and popular route as the cliffs edge is secured with sturdy fences. One can climb to the rims top where the geological station is present or can go down to the Domas crater and stand on bed of the stoney crater beside the boiling sulfur- water which comes out from the ground. From Domas, strolls can be taken via cool woods to reach main car park just beyond Kawah Ratu.