Many people think that Bali is too touristy and overrated. If one look past, many tourists who instead of complaining and scorning, enjoy this little business dotted city which specifically caters to tourists and fully fall for this place.
Pura Luhur-Uluwatu Temple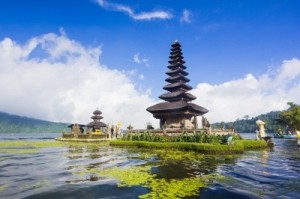 A very large cliff of limestone with the temple perched on that and it almost looks like the scene from cliffhanger, adding to the temples dramatic grandeur. The temple being situated in the Bukit Peninsula Island includes few spectacular beaches like the Balangan and very good spots for surfing. The temple being a massive and majestic structure was expanded and constructed by many since 11th century. The temple is perched at a steep cliff of about 70meters above Indian ocean. The higher grounds gives a breathtaking view of sunset scenery on either side of the temple.
Puratanah Lot
This is another majestic formation of rock which lays foundation for a pilgrimage temple. It is very popular for the cultural significance and serenity. The temple is associated with Balinese Mythology as one among seven temples which form a ring in South-west of Bali. When there is low tide one can walk across the awesome water for a full experience.
Pura Ulun Danu Bratan
A famous temple in Balin by its lake, is not perched on a cliff like the rest but is serenely rested at a edge of the lake Bratan. The temple is doubly beautiful due to its reflections in the water of Lake Bratan.
Lovina-Dolphin Sightings
Lovina is one of best place around the world for sighting dolphin by a boat trip. The trip leaves at dawn, especially at peak season. Though the place may be crowded, it is worth when dolphin school is spotted which are jumping happily.
Ubud
It is Bali's heart where all action, energy and people are focused. Ubud is totally packed with best of the place from culture, nature, temples, people, rolling paddy/rice fields, museums, parks and man-made gardens. One may go in for a bike tour or take up white water rafting and outdoor activities or relax with meditation, yoga or get pampered in massages and spas.
Nusa Dua Beach
If there is more budget to be spared, Nusa Dua Beach has many high end hotels. There are  private and pristine beaches for one to slowly get soaked in sea and the sun. This is ideal for people who are looking for relaxing private getaways not to leave out the honeymooners.
Mount Batur-Kintamani
Up in highland in the Eastern side of Bali lies Batur Caldera Mountain in the place known as Kintamani. A climb on to its 1700mts summit of the active volcano gives a life time experience for active travelers. Many prefer hike at sunrise to get ultimate experience. Treks are well marked making the hike relatively easy.
Ayana Bar On The Rocks
This bar is located on another cliff in Balis Ayana. This is best in Bali, with a long queue of people almost everyday to go inside and grab a drink. With some tit-bits while having a look at the sea that crashes in the rocks beneath.