Vietnam is both enraging and enthralling and has been a icon of travel for a long time. Blend of South East Asia's present, past and future is so stark in Vietnam than in any other country. This clash, at times may seem so confusing and confronting and sends even an experienced traveler to flee to the near-by luxury hotel. But a little preparation will set up the trip a trip of the lifetime.
Keep Smiling
Though many visitors grumble, people of Vietnam are more like their counterparts from south East Asia, in friendliness. Unlike in Cambodia, Laos and Thailand, where more often the localities are curious about the Visitors, people of Vietnam ignore foreigners who are lost-looking unless asked for some help. But if a question is asked with a sweet smile, it will certainly be answered with the same smile.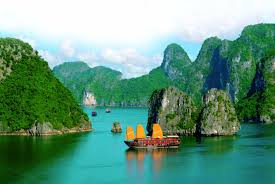 Taxi Scams
For many visitors, to truly look at the thronging street of the city of Ho Chi Minh and Hanoi, best way is to take the motorcycle taxis. However scams are possible, though unlikely, it is better to have decent knowledge about the points of visit to have best protection. If there is doubt about going in a wrong way, it is better to ask the driver to pull over. It is better to organize for a airport pick-up to hotel as scam taxis are at rife.
Night Buses
Overnight buses tend to be a good way to cover very long distances which apparently saves on accommodation costs. But it should made sure that the top bunk is booked as far away from the restroom ( normally located at the back). Not to be very specific and probing, many buses have non-working bathrooms and the smell becomes worse. Also, drinking too much water is not recommended as the rest stops are purely at the whims of the driver and even skipped when the bus runs late.
Nightlife Trouble
Vietnam sells most cheapest beer in the whole World but do not over do it. In Hanoi, there are official curfews on nightclubs and bars, which are enforced by police when the owner has not paid the so-called suitable 'fee'. Hiding in dark and making the police to believe that the club is closed can be sometimes amusing, but most of the time it sucks when half of the group is thrown out from the club by cops. Nha Trang has a trail for attendant gangs and pick pocketing prostitutes, so it is better to be prepared.
Motorcycle Safety
Vietnam is definitely not a place for learning to ride motorbikes where scooters dodge each other by only mere inches. Roads of Vietnam are truly testifying and there are unfortunate incidents of tourists getting killed, attempting an adventure in two-wheeler. If at all there is need for a thrill in a bike, it is better to have a Vietnamese rider who takes care of all the driving.
Be Bold
Vietnam can be overwhelming and intimidating, so the very important thing is not to get scared and carry a humor sense so that everything works out well.