The continent of Europe is named after a princess called Europa. It is a continent where Democracy was established two thousand years ago. Europe ranks second in the world's smallest continent and largest population list. It has forty different countries and five peninsulas. Europe is known for its vibrant festivals and a wide array of traditions and cultures followed by its countries. Music festivals, dance festivals, summer festivals and the categories go on. Here are some of the best summer festivals celebrated in Europe.
Sonar Festival, Barcelona, Spain:
Sonar Festival is one of the many music festivals celebrated in Barcelona, Spain (created in 1994). It falls under the electronic category of music. This festival is a gargantuan celebration of electronic music. It takes place for three days. The programs are scheduled under two divisions as Day and Night. The main goal of the Sonar Festival is to create a link between creativity and technology. Now this festival organizes more than fifty events every year and has become a reputed International festival for music.
Exit Festival, Serbia and Sea Dance Festival Montenegro:
Exit festival was started as a movement for fighting for peace and democracy in Serbia. It started as student movement. This music festival has won many awards all over the world. This festival has been awarded the Best Major European Festival. It has also won awards at UK Festival awards. This festival is celebrated in the Novi Sad city of Serbia. It has got six stages- main stage, dance arena, explosive stage, happynovisad stage and elektrana stage. Each stage is located is different place and used for specific purpose. Now they have arranged Sea Dance Festival for the first time which is celebrated for three days followed by the four days celebration of Exit festival.
Roskilde Festival, Zealand, Denmark: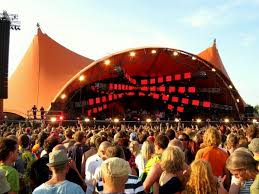 Denmark is a country of islands, it has four hundred and six islands. Zealand is the largest of all. Roskilde festival is one of the largest music festivals in Europe. It was started by two high school students and then the festival was taken by its own foundation. Non- profit foundation started for the development music and students culture. Their stages were named by their colour until 2003. The Saturday of the Roskilde festival conducts naked run in which one male and one female winner are given the tickets for the next year.
Festival Internacional de Benicàssim, Spain: 
The four day festival is one of the largest festivals of Europe. It is commonly abbreviated as FIB. The music includes pop, rock and electronic. The other parts are short films, fashion and art. This festival is reputed for being the best among all the international festivals. The starting day of the festival is second Monday of July.
Bilbao BBK Festival, Spain:
Bilbao BBK Festival is a very easy summer festival to reach. It is located in mountain and that adds beauty to the festival. It is a very modern city with exotic bars and restaurants. This is a festival of rock and pop music.