The town of 'Shirdi' continues to attract millions of Sai Baba followers from all across the world that flock in large numbers day in and out. There are facts which surprise even those most familiar with the place. Here are some more facts added to the list from the previous post of the blog: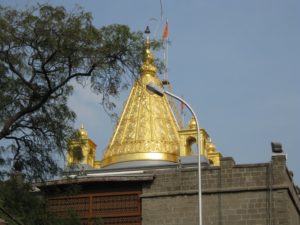 When actors turn demi-gods!
Sudhir Dalvi, a less popular actor, donned the role of Sai Baba in the 1977 movie "Shirdi Ke Sai Baba". The movie was a huge success in that Dalvi fast became a household name. Interestingly, whenever he was spotted in the streets, Sai Baba devotees would immediately fall at his feet to seek his blessings. Ironically, if industry gossip is to be believed, filmmakers denied him of further opportunities in the cinema world as they didn't like the idea of an almost god-like figure playing any other roles on the silver screen.
Jackie Shroff abandoned smoking and drinking while shooting for a film on the great Saint in Shirdi.
Popular actor of the 1980's, Jackie Shroff, also played the role of Saibaba in a film made in 2010 – "Malik Ek". He is reportedly known to have said that he totally abandoned smoking and drinking while the film's shooting was on. Though the movie didn't go as Jackie and the film crew expected, it even failed to revive the hopes of an already struggling actor looking to make a decent comeback.
The Malaysian government wants to invest in Shirdi's airport.
In 2016, the Malaysian Government, surprisingly, expressed interest in manning the Shirdi's airport, in a joint operation with the Government of Maharashtra, for a cost of Rs 1500 crore.
One can travel all the way from Puri in Odisha to Shirdi
Shirdi's railway station, Sainagar Shirdi, is well inter-connected by several trains operating from major cities and towns around India. The railway station, which has been around since March 2009, is a key terminus on the Central Railway line with trains linking to places as distant as Puri and Kokata. The Sainagar Shirdi – Puri Express leaves from Sainagar Shirdi every Sunday, covering a total distance of 1619km with a travel time of about 29 hours, to reach Puri. The Sainagar Shirdi – Kolkata Howrah Junction Superfast Express that starts from Sainagar Shirdi covers a distance of 1790 km with a travel time of about 26 hours to reach Kolkata's Howrah Junction.
Shirdi's literacy rate is higher than the national average.
The 2011 census reported the average literacy rate of Shirdi town as 70 percent with male and female literacy at 76 percent and 62 percent respectively, as opposed to the national average literacy rate of 59.5 percent.
There is more to it than meets your eye when it comes to visiting Shirdhi. If you are one among the crores of devotees who believe in the miracles of Shirdi Sai Baba, visiting the shrine can make you feel one with the divine spirit and light.