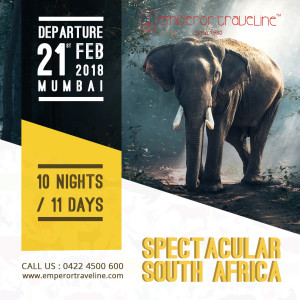 Duration: 10 Nights/11Days
Departs: Mumbai: 21st Feb 2018
From Price: Rs. 1, 25,000 per person
South Africa, a land of extraordinary, beyond-the-world beauty and a plethora of experiences, is sure to get you spellbound. We have a special New Year offer that is a scheduled tour package that includes travelling to Johannesburg, Sun City, George, Mossel Bay, Oudtshroon, Knysna, and ending in the stunning city of Cape Town.
This itinerary allows you to enjoy and take in the magnificent scenes, sounds, and tastes for which South Africa is known for.
Itinerary:
Day 1: 21st Feb 2018. Fly Mumbai to Johannesburg (overnight flight).
Arrive Johannesburg or Joburg, the land of the magnificent Jacarnada Trees. Upon arrival you will be met and assisted to the shuttle transfer service for a city tour. Thereafter you will be taken to The Gandhi Square and Nelson Mandela Square. Then you will be taken to our hotel to sine and stay overnight.
Day 2: 22nd Feb 2018. Johannesburg – Sun City – Johannesburg
After breakfast, this morning depart for Sun City and check-in to the hotel. Thereafter enjoy the myriad entertainment options that Sun City has to offer. Travel along the city or visit the bird aviary. Opt for the adventurous activities like Quad biking, Parasailing, Motor boats, Banana ride and more. Finally, return back to the hotel for dinner and overnight stay.
Day 3: 23rd Feb 2018. Sun City – Johannesburg – George – Mossel Bay
Have a bright and early start to the day to proceed to Johannesburg airport to board the flight for George. Proceed from George airport and check-in at our hotel. Relax and refresh at the natural tidal pool. Explore Mossel Bay and visit the famous Post Office Tree, the Bartholomeus Diaz Museum and Shell Museum.
Get ready by evening for an adventurous hike to the lighthouse. Explore the scintillating beauty of Mossel Bay in the late evening. Return back to the hotel for dinner and overnight stay at Mossel Bay.
Day 4: 24th Feb 2018. Mossel Bay – Oudtshroon – Mossel Bay
Have an energizing breakfast at our hotel in Mossel Bay and proceed to travel inland over the spectacular Outeniqua Pass to Oudtshoorn, known as the 'feather capital of the world' because of its ostrich industry. Then proceed to the Ostrich Farm to have the time of your life. This is a great opportunity for kids and adults alike to have a thrilling ride on an ostrich and stand on top of an ostrich egg to find out what happens.
Visit the astounding Cango Caves located in the lush Cango valley. Explore the beauty of natural Stalacite caves that are the world's finest limestone formations. Now is the best part of your day. Proceed to visit Cheetah Land and Crocodile Farm at the Cango Wildlife Ranch. Get closer with the fastest land animal on earth. Experience the most fascinating animal encounters with cheetahs, lemurs, croc-cage diving and more. This place has soemthign for everyone in the family.  At the end of the day, dine and stay at Mossel Bay.
Day 5: 25th Feb 2018.  Mossel Bay
Have a hearty breakfast and get ready to experience a bird's eye view of the sea. Opt for a helicopter ride and experience the breathtaking views of the bright blue sea that is bordered with over 60 kilometers of bright beaches. Grab your gear and experience some adrenaline rush. Go Quad biking on a 4 wheeled bike or opt for a speed boat ride. Finally, get back to the hotel for dinner and overnight stay.
Day 6: 26th Feb 2018. Mossel Bat –Knysna – Mossel Bay
After breakfast head to Knysna for a day excursion. If you prefer some extreme action, opt for Bungee Jumping at the Bloukrans Bridge on route to Knysna. Reach the beautiful Knysna nestled between the Outeniqua Mountains and the Indian Ocean. Explore South Africa's beautiful gardens just east of Cape Town. Enjoy the rural beauty of the small towns located by the sea. By the end of the day, head back to the hotel for a scrumptious dinner and stay.
Day 7: 27th Feb 2018. Mossel Bay – Game Lodge
Have a filling breakfast and get ready for an adventurous open vehicle safari. Check in to Game Lodge and grab your binoculars to spend some time with South Africa's big 5 – Lions, Leopards, Elephants, Wild Buffalos, and African Rhinos, right in their territory. By evening, get back to the hotel for dinner and overnight stay.
Day 8: 28th Feb 2018. Game Lodge – Cape Town
Have breakfast, pack-up and check out from Game Lodge and head towards Cape Town.  Enjoy a day of leisure in the 'Mother City'. Enjoy quality time exploring this beautiful city. Check-in at our hotel and proceed for Canal Walk, the 3rd largest shopping complex in Africa. Explore and shop at this complex that has over 400 stores, 7000 parking bays, various restaurants, 20 cinemas and a game arcade. By the end of the day, head back to the hotel for dinner and overnight stay.
Day 9: 01st March 2018. Cape Town
This morning continue your journey after breakfast, Drive to Cape Point to visit the "Cape of Good Hope", which is the South Western Point of the African Continent. Visit the Seal Island on your way back. By evening visit the V&A Waterfront. Finally, head back to the hotel for dinner and overnight stay.
Day 10: 02nd March 2018. Cape Town
Awake to the sounds of the crashing waves and have the morning at leisure to unwind with beach sand between our toes. Enjoy a hearty breakfast and proceed for a breathtaking ride on the cable car atop the glorious Table Mountain. Get to experience the beauty of the entire city with its lively beaches from the top of the Table Mountain, which is South Africa's pride. Have a stunning colorful panoramic view that stretches from the Table Bay to the False Bay, encircling the mountain to the Hout Bay Valley.
Later that day, proceed for a guided Orientation City Tour visiting the main attractions across the Town including Green Market Square, District 6, Company Gardens, Houses of Parliament, the Castle, Signal hill, sea point, water front, Malay Quarters, downtown business district, and Clifton en route to Hout Bay. Finally, head back to the hotel to dine and stay overnight.
Day 11: 03th March 2018. Cape Town – Johannesburg – Home Bound
Have a good breakfast on your final day of the tour and check-out the hotel. Now head to the Johannesburg airport to board the flight that takes you back to Mumbai.
Highlights:
Scheduled Departure
10 Breakfasts, 10 Lunches, 10 Dinners as per preset menus
Johannesburg
Mossel Bay
Oudtshroon
Knysna
Cape Town
Sightseeing
Orientation city tour of Johannesburg.
Trip to Sun city (You have an option to Visit Bird Aviary or enjoy Optional activities like Jet Ski, Parasailing,
Sanana ride etc). Valley Of Waves included.
Excursion to Knysna lagoon, Bunjee jumping bridge
En route Mossel Bay, Tsisikama national park and George.
1 Game Drive at Game Lodge.
Orientation City tour of Cape town including Table Mountain, Scenic drive through Clifton and sea point,
Green Market square, walk though the company gardens, House of Parliament, the city wall, the castle and
slave lodge at Cape town
Full day Cape Peninsular Tour- Cape of Good Hope, Flying Dutchman, Seal Island.
Evening Visit to Canal Walk Mall and Victoria & Alfred Waterfront in Cape Town.
Entrance included in this tour:
Garden Route: Cango caves, Ostrich farm, Cheetah Land & crocodile farm.
Cape Town: Table Mountain (If weather permit), Seal Island, Cape point with Flying Dutchman.
Pricing:
Tour Cost:
Tour Cost: Jan – March 2018
Adults: Rs. 1, 25,000 per person based on double/triple sharing accomodation.
Child with bed: Rs. 1, 15, 000 child sharing room with 02 adults
Child without Bed: Rs. 1, 03,000 child sharing room with 02 adults
Single Sharing: Rs. 1, 60,000 per person
Note: An additional Airfare Difference of Rs 15000 is applicable for the month of January.
Upgrade Cost per person
Johannesburg: D'Oreale/Similar Rs 5500
Mossel Bay: Point/ Similar Rs 8000
Cape Town: Westin/ Similar Rs 15000
Base Fare Calculated at Rs 26000
Tour Cost Calculated at Zar 1 = Rs 05
Take advantage of our flexible itinerary this 2018. Contact us to tailor make an itinerary to suit you.