The wedding season is on and you are about to taste its flavour soon. What next? Honeymoon? There can be no denying that. A lot has been already discussed on the choice of honeymoon destinations, but how one chooses the right honeymoon package obviously drives other things in place. There are a lot of options on cards and honeymooners, no doubt, latch on the first available package they find, either online or offline. Remember honeymoon is something that must be remembered for the right reasons.  Some of the initial questions that need to be answered in the planning phase: what type of travel do you prefer? What destinations suit you genre? What is your budget? What hotel or resort falls within your considerations and budget? If you can answer these questions, you are well on your way to your dream honeymoon.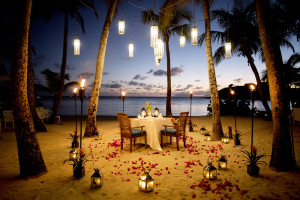 What do you want out of your honeymoon?
From Europe to Hawaii, the Caribbean Islands to Las Vegas, there are a whole lot of honeymoon destinations to pick from. You need to decide first on the type of travel, what you want out of your honeymoon trip, then the rest of the things will fall in place. It must be noted that every destination will offer its unique feature: history, mysticism romance, adventure, thrill and other travel genres; sometimes a combination of one or two travel genres will turn out to be really cool.
In general, go for something that will offer varied travel experiences for your honeymoon vacation.
Destinations that'll match your interest
Now that you have some idea on the type of honeymoon you are looking for, let us be more specific on the selecting the specific destination that will match your interest.  While there are some European vacations that offer the ability to travel multiple countries in a single trip, most travel packages are single-country or single-location based.  If you've decided to honeymoon on an island, research a bit on the local attractions around, traditional culture, language, foods and information on the beaches and the type of activities the place offers such as fishing, diving, sailing, or chilling on a lounge chair around the pool, enjoying the sun, etc.   There may be a few more questions, but let's narrow down our focus to the basics.
How much is your travel spend?
Like most things in life, travel is decided on the basis of budget. How much are you willing to spend on your honeymoon trip? How many days have you planned to cover in your trip? This, more often than not, isn't a difficult one as there are several resorts, hotels, tour operators, travel websites and app platforms all competing for some business space. All you need to do is refine your search a bit, either online or offline, and match your needs with the budget. Look for discounts and offers and check if the available packages cover meals, transportation, and entertainment at the hotel or resort. Some extra bucks will probably allow you to spend outside the all-inclusive travel package that you've selected.
Finding the right resort
If you have managed to answer the first three questions, then finding the best resort, hotel or accommodation is only a cinch. As we discussed earlier, it's always considered a great idea to participate in social media interactions, travel forums, travel blogs, and other social networking sites to say what others have to say about a particular resort or hotel. Find out how from the experience of previous honeymooners on particular destinations; this will go a long way in helping you make the right decision and spice up your honeymoon trip.