The best way to spend time with family and friends is during a vacation and if the vacation is during Christmas, nothing gets better than this. Christmas is celebrated almost around the entire world with much joy and enthusiasm. Every holiday destination is unique and enjoyable during the Christmas season. Let us take a look at some of the famous destinations around the globe where you will have utmost fun in various ways.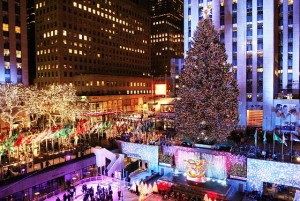 New York looks fabulous and invitingwith white snow, colorful lights, pretty decorated trees and brightly lit stores. Though it gets really cold during Christmas, these enchanting sights of the metro city will not dampen your spirits. The Rockefeller Center is one of the main attractions in the city with a 70 feet conifer that is decorated with five miles of Christmas lights. You could also enjoy ice skating there. If nothing, just a lazy walk down the lanes of this lively city with a cup of hot chocolate in your hand and admiring the zillion sparks of colorful lights from the many many stores is a treat to the eyes.
What is Christmas without a Santa Claus? The Santa Claus Village which is also known as Europe's Christmas capital is located the foot of the Arctic Circle. It has Santa themed parks that has a real reindeer, a tour of Santa's workshop. Every year around Christmas this place attracts thousands of visitors from all over the world to witness the marvel of Santa Claus.
Caribbean is another classic Christmas destination. With its warm weather and a nature friendly place, you definitely do not want to miss this awesome place. The famous islands to visit are Barbados, Tobago, Anguilla, Dominican Republic. With some of the world famous beaches present here you can have a fantastic vacation with many things to do. You could also rent a Caribbean villa for a family together.
Reykjavik in Iceland offers a beautiful Yule Town Christmas with a city filled with peculiar Christmas traditions. You could also get a glimpse of the Northern Lights. The winter trips to Iceland is very exciting with its humungous glaciers, warm hot springs and geysers, epic volcanic craters and cascading waterfalls.
Provence in France has music played in medieval churches that is perfect for the Christmas festive feel. There is a huge Christmas market where people throng and celebrate with fervor and joy. The lights across these cobble stoned streets are a pretty sight which can not be missed.
Nuremberg in Germany boasts of an impressive Christmas market with over 200 vendors who put some excellent stalls to compete for the most beautiful stall design award. There are some breathtaking historic castles and museums to visit here in Nuremberg.
Barcelona in Spain is worth a stay during the holiday season. The city looks magnificent with canons, fireworks and a huge parade of camels, elephants and giraffes. The pristine beaches, the modern art and architecture, the mountains all are a beauty in Barcelona. This is one of the most cosmopolitan cities in Spain and is a major tourist attraction.
Durango in Colorado offers a mountainous Christmas with no much hype and fanfare. Its serene white snowy surroundings relaxes your mind and helps you celebrate a peaceful Christmas. You could try skiing in this famous ski spot.