Croatia calling
We have lots of amazingly bright ideas woven together to make your holidays worth reminiscing in every fabric of your heart. While you plan to get soaked in the sun beside the Adriatic Sea, hold on your adrenalin for some exciting tips we have to tell you before you pack your bags to Croatia.
For a first time traveler, you would be eager to know about top sights, beaches, recommended highlights. There is plenty you can do to make your holidays active by indulging in scuba diving, rafting, Kayaking, fishing, rock climbing, or playing some golf . Croatia is becoming an emerging tourist destination. The country is associated with pebbles, National parks, Nature parks and over 6ooo km coastline.
Croatia climate
Due to its history, culture and warm temperature, Croatia is attracting tourist crowds every year. There is temperate climate spanning the mountainous regions and the south side enjoys a quiet Mediterranean weather. Summers are usually hot and dry. Winters are mild and humid. Summer is the peak time for tourists.
Stay in Croatia
Selecting the right accommodation is very important to begin the tour on a pleasant note. You have family hotels, hostels, spa resorts and you can get all the inside information you need if you are planning a trip. The prices of rooms are fairly reasonable and one can afford to have a comfortable stay in Croatia's rentals and hostel rooms. However it is always best to plan your travel ahead so that you can discover places that require a second visit. The locals are friendly and intriguing. The food is yummy to satisfy our taste buds. Croatian nights are splendid as there is lot of sightseeing in the offing which is one of the best ways to get recharged.
Getting around Croatia
Croatia has a simply fantastic bus system. Croatian bus system runs on intercity basis. This means that you will get to travel from one city to another based on the type of travel pass you have purchased. There are many options and you need to take some time out to plan your transportation. Moreover buses connect between cities and they are inexpensive makes them the most preferred mode of transport. However for longer routes it is advised to buy ticket and get the seats allocated. Refer the Croatia Bus time table for all details.
Taxis
Taxi cabs are the most expensive means of transport in Croatia. If you are a budget conscious traveler then it is best to take the bus or train to travel around.
Rail network
The Croatian Rail system is partly private and partly owned by public. They have a convenient mode of navigation throughout the cities. Refer Croatia Rail time table for all details.
Ferries
There ferries too available to cross the Adriatic network. As summer time is peak season it is best to plan ahead and check out the ferries timetable during off season to make sure whether you shall be dropped from where you actually started. Refer Croatia ferry time table for all details.
Best time to visit Croatia
May, June and September could possibly be the best time to tour Croatia. The average temperature around this time is 20 degree C and it is relatively less crowded. The peak season starts in July when you see the temperature rising up to 26 degrees C. Winters could get cold and sometimes it could make the Adriatic coast close down. Mountains get decked up in the pristine snow in some parts of the state.
Currency in Croatia
The official Croatian currency is the Kuna. There are foreign currency exchange centers all around the place.
Get to discover the best of Croatia
Croatia Hot Spots
Dubrovnik Sea Kayak- Set out with a small group out into the blue sea and get some enchanting views of Dubrovnik.
Plitvice Lakes and National park- There are 16 lakes that meet each other through cascading waterfalls around the dense National Park.
Sailing from Dubrovnik to Split
Just sit and recline and enjoy the lazy afternoon. It is yacht time which is meant to pamper you. Just take a cruise in the yacht and explore the secluded islands and beaches. Discover the nightlife and experience the perfect blend mix of country and culture.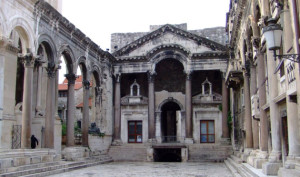 Diocletian Palace
The Diocletian Palace faces the harbor and is an example of the Roman ruins prevailing today. It looks neither a palace nor a museum in reality. It is situated in the heart of the city covering an area of 31ooo sq meters. An architectural marvel in its own right, the palace is built on white stones brought from the island of Brac. The Diocletian have lavishly imported marbles from Italy and Greece and sphinxes from Egypt.
Mljet Island
Mljet Islands are beauty personified of all Adriatic Islands. The island is covered with Vineyards, National parks and lush greenery draped around. The place also boasts of spectacular salt water lakes and pine forests that add to the scenic beauty. It is like being close to Mother Nature's arms where you can experience the pinnacle of tranquility in the atmosphere.
Istria
You can call it the most lovable of Mother Nature as Istria is a heart shaped peninsula. The 3600 sq km Istria stretches till the south of Trieste in Italy. The rolling hill, fertile plains captivates Nature lovers and adventurers to Istria's hill top villages and hotels. Further some fresh sea food and the sprinkling historical charms of the place gives the feel as though it is paradise on earth.
Zagreb
Zagreb has it all that a passionate heart would yearn for. The capital city is filled with arts, culture, music, architecture that are right ingredients needed to make a place a hot favourite among the tourists. The modest metropolis is made for walkers to stroll through the streets into coffee houses, enjoy theatre, concerts and galleries. Around spring time and summer, everyone takes a dip to Jarun Lake to sail and swim. Nights are spent dancing away at lakeside discos.
Zlatni Rat
If you love to wind surf and get soaked in the sun then it is great to take time off at Bol in Zlatni Rat. A magnificent beach made of smooth white pebbles that get shuffled due to the wind and waves. The pine trees and rocky cliffs give a sharp look to the beach environment.