If you are in Srilanka (formerly Ceylon), the Land of Buddha as it is known, Dambulla Cave Temple is one place you shouldn't miss no matter what. This ancient temple contains a series of five pre-historic caves and 157 statues of Lord Buddha in total. The several exquisite paintings on the walls and ceilings of the temple are a reflection of the popular Buddhist religious art of the olden era.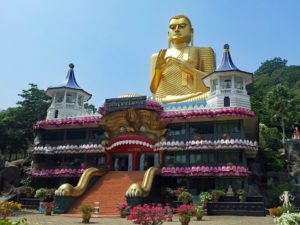 The history of the awe-inspiring caves, temple and rock dates right back to the 1st century BC. It's not just the statues in the caves that could fascinate one, but also the several delicate and sinuous paintings on the ceiling and walls, produced with indigenous traditional paints.
The rich ancient history, archaeological significance and culturally artistic values of the temple were recognized by the UNESCO as a World Heritage site in 1991. The temple has stood the test of times for over twenty two centuries and never fallen shy of reverence, adoration and spirituality. Visitors may need to use the steps leading to the top of the rock for a panoramic view of the temple which is as awe-inspiring as its stunning interior.
It is thought to have been the home to pre-historic Srilankans as several burial sites were excavated in the past that are believed to be at least 2700 years old. However, it gained significance only after the rise of Buddhism in the Island nation. It is traditionally believed that the caves were converted into a permanent temple by Valagamba of Anuradhapura who went into exile from there at the time; he was then accepted as a refugee by South Indian usurpers. He spent the next fifteen years into hiding within the caves before successfully reclaiming his kingdom: he wanted to thank the gods and built the temple where he had sought refuge for years.
The numerable artefacts and statues that one can find inside the Dambulla is a true reflection of the artistic talents of the Buddhist era in Srilanka. A visit to the cave and a walk through it is worth every cent and an awesome day out.