Diwali is fast approaching and along with the season comes holidays and the time for merriment. If you are looking to take a break and tour during the holidays, check out the exclusive Diwali holiday travel deals and packages from Emperor Traveline. With our range of exciting local and international destinations, you can be sure to get your fill of Diwali cheer. Our tailor-made packages cater to all budgets and interests. All you have to do now is choose where to go.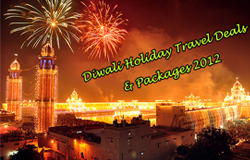 14th Nov. 2012 – Thailand Tour 4 Nights / 5 Days
• (Bangkok 2 Nights & Pattaya 2 Nights)
• Departure from Bangalore
Thailand is one of the most vibrant Southeastern Asian countries. Bangkok, the capital and largest city and chief port of Thailand is well known for its typical Buddhist architecture. The city has been a dream destination for shopaholics and food lovers. Bangkok is home to some of the most contemporary architecture including temples and buildings in Asia. Pattaya is an ever-green destination to experience sun soaked mornings and cool evenings in sparkling blue beaches. Our Thailand tour package gives you the opportunity to enjoy the beauty and splendor of these leading cities.
14th Nov. 2012 – Uzbekistan Tour 3 Nights / 4 Days
• (Tashkent 3 Nights)
• Departure from Coimbatore
This landlocked republic in west central Asia is emerging to become a popular tourist destination. Uzbekistan brims with architectural monuments and places of interests to adventure options and cultural tourism. The capital city Tashkent has its own unique flavor. It brings together medieval buildings, wonderful European architecture, and modern skyscrapers. The diverse restaurants in the city not only offer delicious cuisine but are also renowned for stylish food presentation, beautiful interiors, and perfect service. Experience an unforgettable Uzbekistan family tour with our convenient 3 nights 4 days package.
15th Nov. 2012 – Dubai Tour 3 Nights / 4 Days
• Departure from Chennai
Dubai is a place like no other. This port city of the United Arab Emirates offers a kaleidoscope of must-visit destinations and attractions, letting you transcend from the lively bustle of the souk to the timeless tranquility of the deserts. Dubai has and is experiencing a fantastic pace of development, making it one of the luxurious and ultra-modern cities in the world. Futuristic skyscrapers such as the Burj Al-Arab and Emirates Towers dominate the skyline. Embark on our 3 nights 4 days tour to Dubai and we promise you an experience of a lifetime!
16th Nov. 2012 – Malaysia & Singapore Tour 5 Nights / 6 Days
• (Kuala Lumpur 1 Night, Genting Highland 1 Night, Johor Baru 1 Night & Singapore 2 Nights)
• Departure from Chennai
If you are considering a trip outside India, Malaysia and Singapore are one among the best international destinations. The Garden City of Singapore has proven to be a remarkable line between the West and the East, and has been radiating with the warmth and friendliness of Asia. Singapore is great for honeymooners and is ideal for family vacations too. Malaysia is the home to some of the finest beach destinations in the world. It offers an abundance of natural beauty and fascinating tourist attractions. Our 5 nights 6 days tour package to Singapore and Malaysia give you ample opportunities to experience and enjoy best of the two worlds.
22nd Nov. 2012 – China & Sri Lanka Tour 8 Nights / 09 Days
• (Beijing 3 Nights, Shanghai 3 Nights & Colombo 2 Nights)
• Departure from Trichy
What an exciting combination China and Sri Lanka are! Our package takes you through the crème of China – the capital Beijing and the sizzling Shangai. China is an interesting mix of different destinations. Some places are renowned for their history, a few others are bestowed with very colourful ethnic features; some boast picturesque landscapes while some are economically prosperous. Sri Lanka, the tropical paradise of South Asia is gifted with a rich heritage, stunning beaches, beautiful landscape, cultural beauty, and an amazing island spread.
Out tour packages are flexible and we try our best to accommodate the specific requirements of our customers. For more information on our tour packages, please get in touch with us.