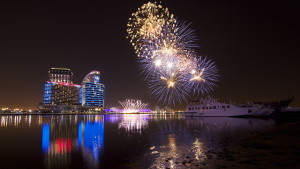 The Persian Gulf coast in the northern coast of the UAE will be the world's most glamorous place from January 2016 to February 2016 as the Dubai Shopping Festival celebrates its 21st anniversary. Fashion fanatics and shopping enthusiasts around the world are eagerly looking forward to explore this extravagant gala. This shopper's paradise is getting ready and it is on its full fledge to entertain hungry shoppers and travellers of all ages groups.
This month long festivity has so much to offer with 50 grand malls around Dubai and several traditional Arabian souks selling exotic items along the twisted passageways. These souks are the exact places where you can bargain on your favourite products before hitting the mega malls. Grab your best pieces of gold jewellery at the Gold souk at incredible prices. Take a stroll along the souk Al Bahar to experience the air filled with the scent of fresh spices.
This luxurious event is not limited just to shopping alone, but it has no bounds when it comes to sheer entertainment and fun. Lively music shows and concerts by renowned international artists, Fashion shows hosted by international brands, fun-filled indoor and outdoor sports and an array of gastronomic treats are all here at DSF 2016 to make each and every moment very special for you and your family.
The good news is that DSF is not all about satisfying the upper end travellers, it also about offering a memorable trip to an average traveller with a limited budget. If budget is your problem, DSF offers just the right solution for you. This treasure trove is full of surprises to satisfy your fashion needs. You can delve your hands into the genuine international luxury brands available at huge discounts from 50% and above. This is your one and only chance to do duty free shopping on a variety of designer clothes and accessories, footwear, jewellery, carpets, spices, perfumes and handicrafts. To top it all, they have new rewards and contests held every day. This is your turn to try your hand at the Infiniti Mega Raffle 2016 to win AED 500,000 worth of prizes every day.
If you are looking forward to have a fabulous beginning in the upcoming year, then DSF is where you should be. Start your life in style and boost your senses right here with all the luxury that you truly deserve. Shop the Dubai way to enjoy a unique shopping like nowhere else. DSF 2016 promises a fabulous shopping experience to every traveller. So grab your tickets to experience life at Dubai Shopping Festival 2016.