There are a quite number of forts in India that belong to the great Indian freedom fighter and Ruler of Mysuru Tipu Sultan. However, the fort at Palakkad in Kerala is one of the long-preserved forts in Southern India. Raised by Hyder Ali, father of Tipu Sultan, it is maintained by ASI (Archaeological Survey of India). The fort stands as a citadel of Tipu's valour and courage and thus named 'Tipu's Fort'after he became a martyr in the final battle with the British. The fort also served as the military garrison of Hyder Ali. The fort was under siege by many invaders during the colonial times.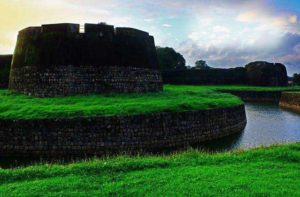 Architecture:
The fort is constructed in a square shape. The majestic fort encloses huge walls and bastions surrounding all sides. It also has a bridge leading to the entrance of the fort, which was once a make–shift drawbridge.
Attractions of Palakkad Fort:
The majestic structure of Palakkad Fort is one of the long-standing symbols that speaks volumes about the fierce battles that took place between Tipu's forces and the East India Company. You can find a large ground found in the centre of the Palakkad fort that was once a stable for the cattle, sheep and other livestock during Tipu's reign. Today you can find youngsters playing cricket, football and other sporting activities on the ground, in addition to its being used for public meeting and other social events.
You can find a temple dedicated to Lord Hanuman within the fort complex. An open-air auditorium is known as 'Rappadi', sub–jail and a matryr's complex are other attractions within the fort complex. There is a kid's park too on one side of the Palakkad fort; therefore, it is a perfect spot for a family outing and for those who'd love to explore the history of the place and the architecture of this 18th-century fort.
The Palakkad Fort is located near the Palakkad railway station. You can take an auto or taxi to reach the fort, once you reach Palakkad. There are several other tourist attractions in the town including Parambikulam Wildlife Sanctuary, Kalpathy Temple, Jain temple, Kanjirapuzha and Dhoni Falls, worth a visit.