Singapore is a land of high secular values; while you are in the "Lion City", watching the famous Hindu "Thaipusam" procession is a truly spectacular mind-boggling, jaw dropping experience. As many as 40,000 people attend this annual colourful procession that comes along with compelling rituals, and normally falls during the full moon in the tenth month of the Tamil calendar – Thai (mid-January to mid-February in the English calendar).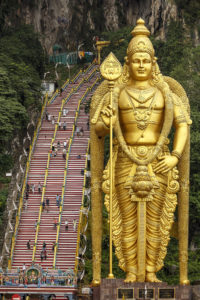 The procession that begins in the morning on Thaipusam day has devotees walking all the way from Sri Srinivasa Perumal Temple, located in Serangoon Road to Sri Thendayuthapani Temple located in Tank Road, which is about 3km away. Some lanes are cordoned to manage traffic during the procession.
This year saw some 10,000 devotees holding milk pots, symbolising fertility and abundance in Hinduism, and 250 "Kavadi" ("Burden Dance" for Tamil) bearers. The devotees spend the entire month before Thaipusam in religious spiritual preparation with a rigid vegetarian diet.
In the annual festival, organised by the two temples and the Hindu Endowments Board, Lord Subramanian, also known as Lord Murugan, the powerful Tamil God, is worshipped with utmost reverence, piety and devotion by devotees. Lord Murugan, according to mythological sources, represents youth, virtue and power, and is the annihilator of evil and dark forces. Devotees fulfil their vows and seek blessings of Lord Murugan by carrying pots as kavadis or offerings in the two-day long festival. Hundreds of volunteers join in to help manage the huge procession.
It is a heart-warming sight to see thousands of people cutting religious, cultural and communal barriers come together to witness this important celebration. It helps people remain intact and rooted both in a religious as well cultural context. The Thaipusam procession, over the years, has been a great way to establish multi-racial and religious interface that helps close gaps and deepen mutual understanding.