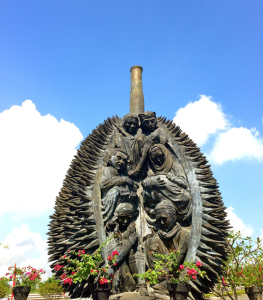 Davao is the durian capital of Philippines and it is considered the safest metropolitan in all of Philippines. Before we delve deep into the travel guide, here is an introduction about this exemplary city. If you are a smoker, then this should probably strike you as a warning. Smoking is totally prohibited in Davao and tourists breaking this rule will be imposed with a high penalty. The city is very clean than any other cities in Manila. Another interesting thing about Davao is that you can find a lot of durian stalls everywhere. The third interesting fact about this city is, you can find several friendly pawn shops with a friendly atmosphere, unlike anywhere else in Manila that is secured totally. In Davao, the pawn shops are like retail stores having jewelry on open display. The point is, Davao is not worried about burglary at all as it has no such threats. It is a safe city where people enjoy a crime free lifestyle. You can definitely have a peaceful holiday at Davao.
The best time to visit
Davao is subjected to hot weather during April and May followed by the rainy season between May and October. You can visit during the monsoon if you are fond of monsoons. If not, anywhere between December to February is the coolest time of the year and it is very much ideal for tourists. The famous Kadayawan Festival happens in the month of August. If you are ready to pay a little extra on everything, you can visit during this month to enjoy the festivities as everything will be expensive at this peak time. Don't forget to reserve your hotel accommodation before arriving.
Plan your itinerary
A total of three to four days will be sufficient to visit all the hotspots. If you have ample time, you can visit the nearby Samal Island which is quaint and pretty as a jewel. Spend your evenings here exploring the island. If you arrive in the early hours of the morning, you can check in at your hotel and spend a day at Samal Island. On the second day, you can take a ferry to reach Davao city. Explore the night life of Davao city that has plenty of gastronomic treats.
On the third day, you can start exploring the city by reaching Malagos Garden Resort to taste some of the exotic cheese varieties. After touring around, try the Philippine Eagle Center. Move on to the Eden Nature Park by afternoon as the Skycycing and Ziplining activities at the park will close around 1:00pm in the afternoon. After having a fun time at the park, hit the city by evening to enjoy a tasty dinner at some of the great eat outs around the city that serve hot, mouth-watering food that is just hard to resist. If you plan a four day tour, then visit the Bankerohan Market to taste the notorious durian fruit. Visit the D'Bone Collector Museum to view a large collection of bones that were collected from various animals, huge and small. A total of four days would be perfect for an amazing tour around the city of Davao.