Dubai has risen to be one of the most glamorous and fun holiday destinations that everybody wants to visit in recent times. The city depicts thrill, fun, adventure, luxury, pleasure and all other aspects of a perfect holiday. It is an ideal place for people of all ages to come together as there are so many things to do and see in Dubai; and that is the primary reason why Dubai is the perfect holiday spot for your entire family! Whether you enjoy adventure sports or a culture enthusiast or simply just love shopping, Dubai is the best place to be to experience all of these and much more!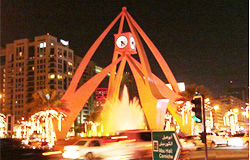 The tour packages to Dubai typically cover all the top attractions and things to do in Dubai. On arrival in Dubai from Chennai, the tourists will check in to their to their hotels and later in the evening get to experience and enjoy an Arabian Dhow cruise dinner on lovely wooden vessels that sail through the gulf waters and you can soak in the city's beautifully illuminated skyline. Day 2 consists of taking the Dubai city tour and visiting the spectacular Dubai museum and magnificent Jumeira mosque. The same day also features riding the Adra (Water Taxi) to see the Souks of gold and spices. Later in the afternoon, you can enjoy the thrill of a desert safari by riding a jeep over desert dunes. The day ends with a traditional Barbeque dinner and a stunning belly dance performance. The following day of your tour features taking an optional tour to Abu Dhabi city and then visiting the world famous Burj Al Khalifa and the spectacular Dubai mall which features the musical fountain. Later in the evening, the tourists proceed to the Aquarium where they get to enjoy a marvelous Glass Bottom boat ride and visit the Aquarium Tunnel with the Underwater zoo.
A tour to Dubai can be made even more fun and enjoyable by planning to go on your trip during Dubai's spectacular Shopping Festival. It takes place between January 13th and February 13th and is truly a shopaholics haven! The festival offers a diverse range of activities that is sure to enthrall you in tremendous excitement! The shopping festival is a great tourist attraction as it features lots of activities, thus offering something for people of all ages. Children can enjoy the Cartoon event with their very own Pokemon or Tarzan. For lavish shoppers, the Carper Oasis is the best place to be. The festival also features a fashion week and this is a great experience for all fashion lovers. The best thing about the festival is that sometimes sellers offers great discounts of even up to 75% on famous branded products!
The Global village is a wonderful experience for people interested in international heritage and culture. Besides shopping, the festival also features raffle draws, great music concerts, trendy fashion shows and numerous children's events, thus offering a wonderful experience for the entire family! Dubai is truly a family paradise that offers fun, thrill, pleasure and excitement with no limits! If you are planning a trip to Dubai with your family, then the Shopping Festival season is the perfect time to visit and experience what Dubai has to offer!
Book Now for your Trip to Dubai Shopping Fest now. Know about tour itinerary from Chennai to Dubai.