Honeymoon is a prize for the newlyweds after a stressful wedding-planning marathon. Honeymoons should be the reverse of stressful with the right blend of romantic, calm, restful, and enjoyable elements. Taking all of this into account, Goa can be a great destination for honeymooners in India. Goa is the smallest yet one of the most beautiful states in India. This southern Indian destination is home to sparkling waters, swaying palms, balmy shores, and epic raves, and provides a delightful respite for honeymooners.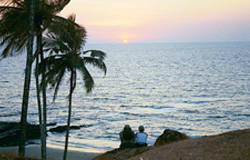 What is Special about Goa?
A lot of things! This gorgeously green state packs a scintillating blend of sun, sand, sea, and surf with beaches that stretch into tomorrow. Bounded by the mighty Arabian Sea on one side and the enchanting Sahyadri range on the other, Goa is indeed a verdant natural paradise. This little lush state is rich with natural beauty and brims with picturesque beaches, famous architectural temples and churches while showing some influences of its old colonial rule here and there. From stylish, full-service hotels to sprawling seaside resorts, the accommodation options in Goa are a tempting gamut. Not to forget the refined flavors of its amazing east-meets-west cuisine.
Goa Honeymoon Packages – The Honeymooner's Dream
A Goa honeymoon package will let you explore various treasures of the state. Whatever be your definition of romantic, Goa will have something in store for you. Happily hugging one of the most beautiful pieces of India, a honeymoon in Goa will take you away from the hustle bustle of city life and put you in a serene, relaxing atmosphere. If you are wondering what you would see in Goa, here are a few places that will be a great beginning to help you experience what Goa has in store:
Dudh Sagar Waterfall – One of the highest waterfalls in India, the Dudh Sagar is natural spectacle that sends milky crystal explosions from heaven.
Ponda – The city and surrounding villages of Ponda are the beating heart of Goan history and culture. The area teems with many spice plantations, markets, parks, and farms.
Dona Paula Beach – This popular beach well known for its sandy shores has ample opportunities for recreation, water sports, wildlife observation, accommodation, and shopping.
Cotigao Wildlife Sanctuary – The Cotigo is the second largest wildlife reserve in the region and features botanical and rose gardens, a natural habitat, a sprawling deer park, and a mini zoo.
Agonda – Ideal for those seeking a relaxing beach experience, Agonda is situated minutes from the most famous Palolem beach.
Anjuna Flea Market – Shop till you drop from over 500 different stalls for goods ranging from guitars and electronic items to clothing and jewellery.
Old Goa – A fascinating display of Goa's history represented through a handful of imposing cathedrals and churches.
Choose a Goa honeymoon package, take the load off and relax!