India is a land known for its "unity in diversity" and each region is popularly known for its vibrant and rich culture and heritage. It is among the most sought after destination in South-East Asia. One such popular tourist destination is the Golden Triangle Circuit which comprises the most celebrated holiday spots such as Delhi, Agra and Jaipur. Each of these locations has unique natural and artificial treasures which contribute to the tourism significance. Thousands of vacationers visit the Golden Triangle every year to soak in the rich heritage of the land. Most travelers start the tour from Delhi and then proceed to Agra and Jaipur before ending the trip in Delhi. Let's now look at the touristic significance of each of these world renowned tourist spots.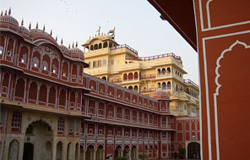 The Golden Triangle tour starts off in Delhi which is the National capital and melting pot of various cultures. The royal city is dotted with architectural magnificence such as Red Fort, India Gate, Parliament House, Qutub Minar and Humayun Tomb. Some of these are recognized as UNESCO World Heritage Sites and are world renowned tourist attractions which have thousands of visitors every year. This erstwhile city is the power seat of the nation and showcases a royal Mughal experience for the visitors. Recent days have seen Delhi grow as a modern cosmopolitan city which spots numerous shopping malls, amusement parks and glamorous discotheques.
Agra is yet another rustic gem town in Uttar Pradesh which has a strong Mughal touch and features the most finely architectural monuments of the world. The enchanting Taj Mahal, the majestic Agra Fort, the formidable Sikandra and the resting place of Emperor Akbar are all noteworthy architectural beauties that attract visitors from all over the world. Apart from marvelous buildings, Agra is also home to culinary delicacies and affectionate residents. A trip to Agra will be incomplete without paying a visit to Fatehpur Sikri, a city built of red sand stone by Emperor Akbar and is known for being the abode of Jama Masjid, Birbal, Jodha Bhai's Palace etc.. The city has an enchanting charm which depicts the Mughal greatness.
The final pit stop in the Golden Triangle is the mesmerizing "Pink City" Jaipur in Rajasthan. This city depicts the greatness of the Rajput dynasts and boasts of innumerable palaces and artistic designs such as the Hawa Mahal, Jantar Mantar, Amber Fort etc.. These striking landmarks of the city are a must visit for any traveller visiting India. The desert city also features a camel safari and a sojourn at the famous Chokni Dhani. Chokni Dhani is a small Rajasthan village setting where visitors can enjoy the ambience of a typical village atmosphere and participate in local cultural activities and folklore.
Various travel agencies offer exclusive tour packages to the Golden Triangle cities which cover all the above mentioned significant tourist attractions! Make a call today and book your next family vacation to the Golden Triangle!