The Himachal Pradesh government has announced that it will commence heli-taxi service soon between major tourists' spots of Manali and Rohtang Pass, which it is confident of giving a fillip to tourism in Lahaul and Kullu areas. Chief Minister Jai Ram Thakur made the announcement, earlier this month, in a local public meeting. The heli-taxi service will carry tourists safely over the delightful snow-capped peaks, whilst offering a panoramic view of the region.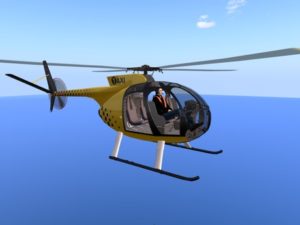 The chief minister hinted that the government is taking all the required steps to give a new boost to the tourism sector in the region by hopping up the infrastructure and other amenities to develop unexplored tourist destinations to entice more high–end visitors and rake more revenue. The heli-taxi service can prove more than handy during unforeseen events such as a landslide.
The chief minister further added that the service is already in operation between Shimla and Chandigarh and will soon commence between Manali and Rohtang to make life lot easier for tourists.  Similar efforts will be put in future from Dharamshala to Dalhousie and Chamba, in addition from Manali to Chandigarh. The Himachal Pradesh Government had earlier started a helicopter taxi service from the city of Shimla to Chandigarh. The six-seater helicopter that flies from Manali to Rohtang at a height of 13050 feet, covering 50km distance, will bring down the travel time to twenty minutes or maybe less.
This operation was put through a trial run recently, which proved successful; a chopper made a soft landing on a helipad built recently at Vashisht Bihal near Manali. Rohtang Pass and Marhi also have two Helipads to its credit, with six more slated to come in the region in the future.
The heli-taxi service, however, will be restricted in case of inclement weather conditions in the region.  The Rohtang route links the Kullu Valley with the Spiti Valley of the state.  The heli-taxi service, nevertheless, is believed to do a world of good for both locals and tourists alike.