Travelling around the world can be one of the finest experiences for most people, be it leisure, business or a combination of business and leisure lately known as 'bleasure'.  For most people it is all about passion and the thrill that comes out of their travel experience. Whatever, no bit of travel can be an 'experience' without planning it out well, and the even the best of the travel requires the right travel backpack, if not a lavishly expensive one.  Here's a quick few tips of things you should be aware in order to pick the right travel backpack: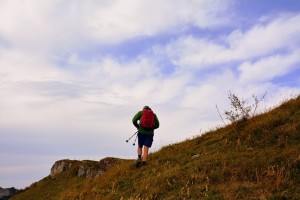 Type:
There are tens of thousands of backpack models and types available in the marketplace to choose from.  Whether you choose a traditional backpack or a travel backpack with wheels for mobility is up to you and your specific travel needs.
Size:
A travel backpack with a capacity of 40-80L will just do the thing if you're plotting a 3-7 days personal or business trip.
Water-Resistant/Waterproof:
Check if your travel backpack comes with a water-resistant or waterproof material to save your valuable contents from the effects of water, snow, or rain.
Multiple Compartments:
Going for a backpack with multiple compartments helps to keep your contents organized, secure and prevent overflowing during travel.
Front-loading Compartment:
Those who do a lot of travel may well tell you that having a front-loading compartment in your backpack can help you access your contents quickly and easily, especially when you are on the move.
Straps:
Check for backpacks that are provided with chest straps, padded shoulder straps and waist strips for higher level of comfort and greater convenience.
Laptop & Tablet compartment:
Any business traveller or tech-savvy traveller would tell you how important it's to have a compartment with sufficient padding and foam support for laptop, notebook, tablet PC, chunky smartphones and other electronic devices.
Weight:
Empty backpack that weighs 2-4 pounds is good enough to carry reasonably huge contents. If the weight is too heavy, the backpack can actually pull you backwards, and this isn't good news.
Raw Materials:
There is a good choice of materials for backpack to choose from depending upon your budget. But Polyester and Nylon are found to be lightweight and highly water-resistant.
Price:
The price of any backpack may depend upon what your choice of brand is, functionality and quality it delivers. Therefore, the price range of an average quality backpack may fall between $50 and $100; if you are looking for premium quality backpacks, you may have to shell out anything between $100 and $300.
You may add a few points to the ones listed above. However, if you consider these factors, then you can get a reasonably priced travel backpack with satisfactory quality. Remember that quality always has a price tag attached and premium quality backpacks may burn your pockets.